Death as some people believe is a visitor that comes unannounced and uninvited. It can strike at any time, during the day or in the Night. Know it today that Every living Creature that draws breath on Daily basis, should have in mind that the only price that we all are indebted to pay at all cost is Death. That is why we witness the death of both the Famous, Popular, influential, poor and rich people in the Society. The world we are living is just like a scene which is bound to end, and we all are visitors here on Earth who are on a transit, to go into Glory someday. So it is wise to be at peace with your neighbor because you never can tell, when your own death will come knocking on your door. But we hope and pray that we all shall not die Untimely.
There is a trending News which has virtually gone viral across all social media platforms in Africa this morning, where two trains accidentally collided each other on Friday in Southern Egypt. This accident led to three other Cars to flip over that led to the death of 18 persons at the Spot, and 150 passengers injured themselves as was stated by the Health Authorities. During this incident, over dozens of Ambulances rushed to the scene of the accident in the Southern Province of "Sohag" to help with the wounded, as this information was provided by Egypt's health ministry. Through the intervention of the Health personnels, 50 injured persons were taken to nearby hospitals for onward treatment.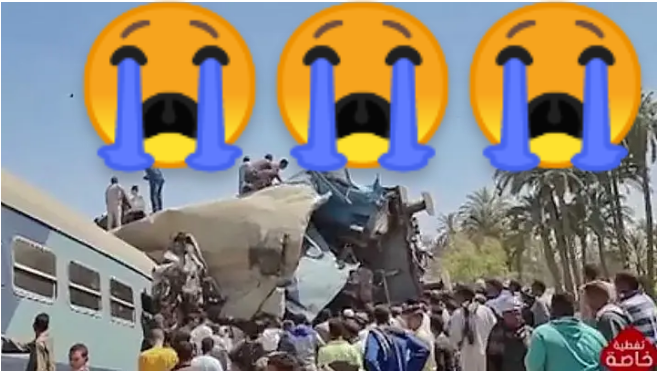 According to the information gathered by a local Media report, Health minister "Hala Zayed" had to travel to the scene of the incident to cross-check the Conditions of the injured, where the Public Prosecutor's office have notified the general public, that it has already started taking measures to find out what Caused the Accident. Initially the Authorities increased the death toll to 32, but they later reduced it to 18 precisely on Saturday.
Meanwhile, "Abdel Fattah", who is the number one citizen of Egypt has sent his condolences to the affected Families of the deceased, who met their end. And also sent his sympathy and quick recovery from the shock they got, both the wounded as well.
Our Prayer is that GOD shall Grant them eternal rest in his Bosom, AMEN.
Kindly say your words of Prayer on the comment box.
Content created and supplied by: KofiLegit (via Opera News )