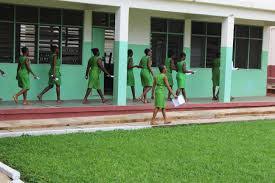 Thankfully, the two St. Louis J.H.S female students who were alleged to have been kidnapped have been found.
Usually, parents have 'these' uneasiness upon realizing that their female children can not be found.
Interestingly, most parents after thinking their children were kidnapped only come to realize that their kids rather went to their boyfriends.
This might sound new to you if you have never witnessed such an incident or heard from a trusted source. 
According to the Ashanti regional police command who were in charge of the task to locate the whereabouts of the two female students, the two were found at Tafo in Kumasi.
Intelligence indicates that the ladies were with their boyfriends and were not kidnapped.
In contrast, the two students have told the police they were kidnapped on their way home after school on Friday.
The police also made it known that the suspected boyfriends absconded upon a tipoff by their neighbours.
Content created and supplied by: GhanaBestNews (via Opera News )