It's a new month. I would like to use this opportunity to wish all my readers a happy new month and encourage them to keep on moving, there is always light at the end of the tunnel.
Now, back to the main story. This is a throwback to when a house help was caught doing the unexpected. I want us to discuss if it is really good leaving our kids with our house helps all the time. I would recommend you read to the end so you know how to deal with such cases.
Child brutality has been on an elevating spree and nothing shows it's going to be tamed down anytime from now. This act can be observed especially with house helps who aren't receiving pay from their bosses, house helps who aren't treated with love and also in house helps who are stressed all day and night.
It will amaze you realizing that other people though treated right, will still abuse children when their bosses go to work. Yeah, some people find delight in hurting other people. It is no fault of theirs, they were born with it.
Like I said, this article takes us back to when a couple finally realized what had been making their sons sick each and everyday. Let's digest the story together.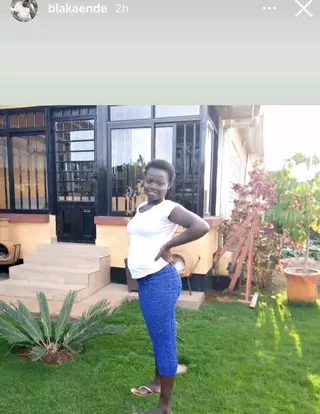 The young lady above is known as Gladys Naliaka Nalianya and she was on the run after she realized her evil deeds had finally come to light.
While many people were trying to overcome their losses and move on with life after the pandemic striked mother Earth, this young lady added much salt to the sores of this family.
She left them in tears after it was alleged that she nearly killed two of the kids in the family. I don't know what propelled that.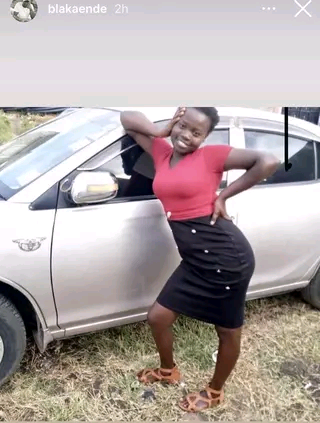 Was her boss too harsh on her? Was she not happy? Well, no one knows.
The story circulated on the social media claiming that this 24-year-old house help had allegedly harmed two boys and was on the run after she saw the evil she had done.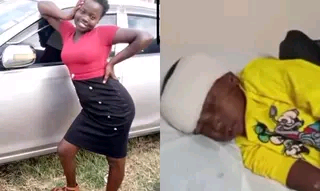 You know social media, whenever an incident happens, people tend to bring their own stories about them. You will hear some people say the kids were stabbed, others will also say the kids were beaten but that isn't of any great importance to me.
What matters is that, there was an assault. The kids faced what they shouldn't have faced and it's against the law.
This isn't the first or the second time we are hearing such a case. There have been cases when babies are tossed around like empty bottles due to the inhumane nature of some people.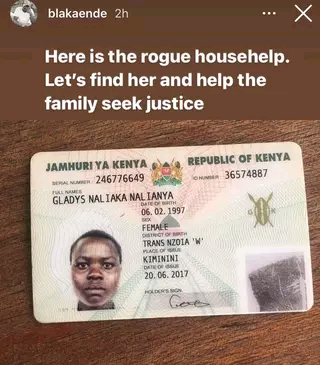 Now, let's find a way to resolve such cases. It can happen to anyone of us. How do we prevent such a tragedy from befalling our kids?
I would recommend we establish a good relationship with our house helps. In that way, they do tell you all their problems and you know how to go about it.
Imagine asking your house help telling you that he/she is a "sadist" after a conversation. This gives you a clue as to how to handle him/her. Ladies and gentlemen, a sadist is someone who derives pleasure in inflicting pain on other people. Will you leave your kids alone with a sadist? That's a big "NO".
Is it necessary fixing a CCTV camera in your homes? I would recommend you put some in your homes so that at least you do see what goes on over there when you aren't around.
Also, to the bosses who don't pay their house helps, please stop that attitude of yours. It builds up agitation in them. Your kids might be the victims of your bad behavior.
Child abuse has been on the rise, let's stand together to fight it.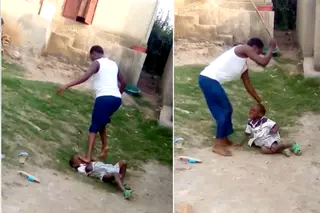 You can share your ideas as to how we can solve such issues in the comment section. Thank you and a very happy new month to you all.
Content created and supplied by: the_Kelvin_guy (via Opera News )