A 13-year-old girl in Russia shocked the world when she revealed she was pregnant with a child fathered with a 10-year-old boy.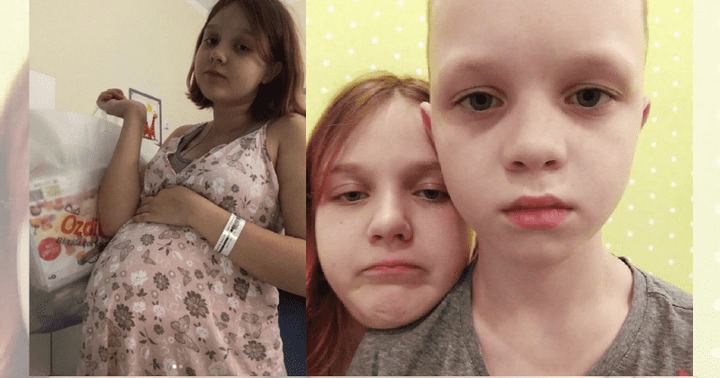 Darya Dasha showed off her baby bump on her Instagram page and quickly garnered thousands of curious followers. The unborn child's father she claimed was a boy named Ivan Vanya who she met through friends. The two gained more popularity in their country when they appeared on television. The foreign press also picked up the story and they became known worldwide. But doctors were skeptical of Darya's claim especially, they argued since the boy had not even achieved puberty and had not properly developed sexual organs. Darya however vehemently denied this claim and insisted Ivan was the father.
Only later, was it found that the girl had been raped by another teen who was the real father of the child. Yet, the parents of both Darya and Ivan approved of the relationship. Darya's mother, Elena supported her daughter's decision to keep the baby despite her tender age. A doctor who appeared during a television show about the children said, it was simply not possible the 10-year-old boy could have impregnated Darya. "There cannot be sperm cells. He is still a child. He had barely started adrenarche - the early stage of sexual maturation. There is even no testosterone. And just to add, he still has childish sex organs. Puberty has not started. So we have a lot of questions," said the doctor.
But Darya reiterated it was Ivan who was the father. "It was Vanya's idea [to have sex]. But I did not mind. He closed the door leaving the key in the lock, so his mum could not open the door. It was a bit scary - that it would be painful. It was just a little - and then everything was normal. It was a bit shameful, we were just hiding under the blanket. I did not think that aged 10 he can do such things...I thought that nothing would happen. After we did it for the first time, we hid from each other under the blanket out of shame." The children are from Zheleznogorsk in the Krasnoyarsk Krai of Russia known for its nuclear industry. They also talked about being in love after they first saw each other and spoke about being bullied since their story became public.
Speaking on finding out about her daughter's pregnancy on the show, Elenas said she was confused when her daughter started to get sick. She brought her pregnancy test kits when she feared the worst. She said, "The test showed that Darya was pregnant. After that, she confessed to having sex with Vanya. I was in shock. I could not say a word. I cannot understand how this could be? Just wake me up, I cannot believe it. When we started talking she said she would not kill the baby and I support her decision. I do not want her to go under the knife." The boy mother named Galina, believes her son is the father and said on the show, "I did not know what to say after learning that my 10-year-old son fathered a child. I think Ivan himself does not quite understand what happened. They did not use any contraceptives and obviously did not realize the possible consequences."
She added. "I believe my son, that he is the father. I understand that he maybe doesn't realize what happened. He is just a child, no matter if he feels himself to be older. He told me that they came to our flat, Dasha suggested it, and they had [sex] only once." Following the birth of Darya's child, a DNA test was carried out according to another Daily Mail report. The child's father was then found out to be a 16-year-old boy who Darya accused of rape. She said she invented the whole story of Ivan fathering the child because she was too embarrassed to admit the rape. She claimed to have been raped in her home. Speaking about the crime on a social media post, Darya said, "It is a painful issue for me. I could not move away for a long time and the pain still remains in my soul. It was a rape. I cannot tell how it happened, because it is painful to recall."
A schoolgirl who claimed a ten-year-old boy was the father of her unborn child has given birth to a baby girl.
She said further, "For a long time after that accident, I could not do anything, it was scary and lonely at the same time." Her attacker was described as someone who was "very fat for his age. And very tall." The Russian Investigative Committee was carrying out an investigation into the allegation.  
Content created and supplied by: YoungDapper (via Opera News )