Two people are involved in a Motorking accident today, Thursday 11th February, 2021 at Nakpache in the Yendi municipal in the Northern Region.
The victims are from Kpabudo Community going to a Funeral at Nakpache this evening with a Motorking.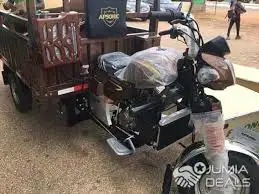 They are sudden involved in an accident and two of them had serious injuries which they have to rush them to hospital for treatment.
The accident occurred on the Nakpache - Kpabudo road when the Motorking was turned in opposite direction and the victims have injuries on their legs and hand.
Others however have bruises over their bodies.
According to them, they don't know the actual cause of the accident but they saw that the Motorking was on the ground.
Some residents however said it was due to careless driving.
The victims are currently in the the Adibo clinic for treatment.
This accident actually occurred this evening at Nakpache on the Nakpache - Kpabudo road in Yendi municipal, in the Northern Region.
Content created and supplied by: Zy0z (via Opera News )