Woman sues 31-year old man for calling her a "Witch"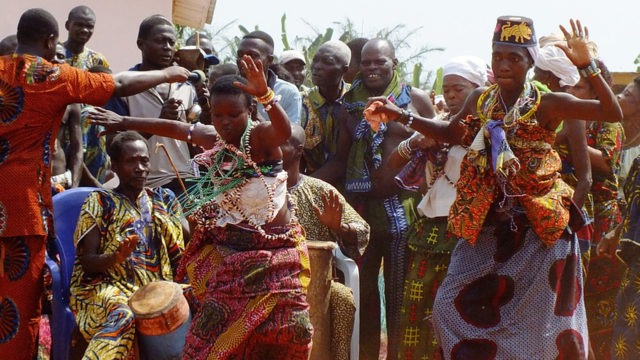 A naming ceremony which was to take place this morning, and ending with a traditional marriage, has been called off, after the bride caused series of troubles. The bride who I will stick to her first name until the court hearing begins, has taken the necessary steps to counter hurtful words one Fiifi Kudjoe made towards her, in front of everyone this morning. Mariam is an educated woman with a masters degree in economics. Despite her qualifications, she hasn't been successful in getting a job, since graduating in May 2018. Mariam has never been broken hearted until this morning, when someone decided to end her long awaited years of single living. 
Mariam attended a program at Wulensi, in the north, where she encountered Mr. Winbilla. Winbilla through the program organizer, got to know Mariam and exchanged contacts, and a few pleasantries. Mariam who lives at Sunyani, has her roots from Kukuo, a town believed to be a witch camp town. Mariam who has never been to the town before, has been attributed to all kinds of ill behaviours. Just because her grand mother, was heard confessing her crimes of been a witch in 2006, has since been the gossip in the mouth of some. Mariam who hasn't been successful in getting a job since graduation from his Masters program, has been rumored to be as a result of her family's witch behaviors. 
Mariam has never cared about those rumors, because it meant nothing to her. Mariam after meeting Winbilla, became best of friends until a child came between them. Mariam gave birth in December, and both decided that, the naming ceremony should come with a marriage rite. Mariam and Winbilla was going to be a husband and wife, after the naming ceremony of their baby. Winbilla who arrived in Sunyani yesterday with his family from the North, has been hearing rumors of, only a stranger eats a bad food. And a man who is not afraid of eating a bad food, must be a witch himself. 
A group of people has been going around circulating absurd rumours just to discourage Winbilla, from going ahead with his marriage ceremony to Mariam, ever since he arrived in Sunyani. Winbilla who never cared, ignored everything until this morning, when family and friends met to commence the naming ceremony and the traditional marriage rites. That was when one man Fiifi, shouted only a stranger eats a bad food, she is a witch from witches camp. This angered Winbilla and tried to face the man Fiifi, for his comments. 
Mariam stopped Winbilla from acting and rather called the Sunyani police, who arrested Fiifi this morning at the event. The ceremony which was to start at 7 and end at 12 this morning, was canceled and rescheduled to Sunday, 14 February 2021. Fiifi apologized for his bad behaviors at the police station, but Mariam never took it and asked the police officers to prepare him for court on Monday. Fiifi was denied bail because, the police have reasons to believe, he will run away if given bail. Fiifi will therefore remain in the police custody until Monday morning, where the Sunyani magistrate court will sit and hear the case. Mariam wants Fiifi to prove to her, how she became a witch, and the impact her allegedly witchcraft, has done to others. Fiifi will surely face a higher fine if he doesn't prove anything to counter his allegations, which ended the naming and marriage ceremony. 
Content created and supplied by: RockyJDJones (via Opera News )