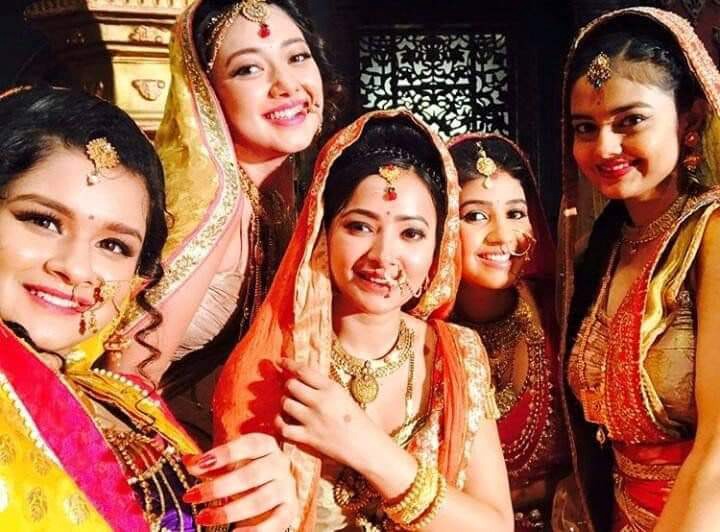 WEDNESDAY & THURSDAY
6TH - 7TH JANUARY ON
CHANDRA NANDINI
Nandini thinking about Chandra and dadi walks in and says are you thinking about Chandra,Nandini says yes dadi,dadi asks and what is it.
Nandini says no I meant Chandra nothing,I was reading this book,dadi says yes what does this book has about Chandra,don't worry it happens in love,Nandini says no dadi,Chandra walks in,dadi says Chandra you know Nandini was reading book backwards and also not eating well these days.Chandra says let's call doctor,dadi says what if his treatment doesn't work,Nandini says nothing no need of doctor,dadi is here to talk about tomorrow's Janmashtami arrangements,dadi says yes and I was also here to talk about bindusara I think he should have a brother or sister ,Nandini and Chandra blush,dadi says you are husband and wife why this shyness and so tomorrow Nandini you perform the pooja so that you will have the blessings and dadi leaves.
Chandra asks what was dadi saying about disease,Nandini says nothing and leaves. Pandugan says with this I shall kill you Chandra and Magad will be mine,Malayketu walks in,pandugan asks what are you doing here,he says I know you are angry let's get back together and focus on chandras death, I have no interest on this throne,but chandras death is my aim,pandugan says good this throne is mine,padmanands son pandugans.
Malayketu says after pooja,I will send Chandra to Sabha house ,you kill him there,pandugan says I was waiting for this day,Malayketu says come let's begin with this friendship and hugs pandugan.and thinks with Chandras death you will be imprisoned and Magads throne will be mine.
Nandini thinking why am I always thinking about Chandra,Chandra walks in and says let me help you,Nandini drops flowers when Chandra touches her hand and says you go other way I will manage myself here and thinks why did I feel this when Chandra touched me,Chandra thinks what's wrong with her,Nandini thinks control your emotions,Helina sees them together and gets angry and leaves.
Helina says mora ma,look I got you a gift,and sits beside her near her feet and says I feel so good near you, I need your blessings too,mora says you are my daughter too you don't have to sit on my feet,Helina says ma look Balkrishna for you, mora says this is given when you Want a women to expect a baby,Helina says this means I should be gifted it, ma binudsara is my son too but even I want to be a mother,mora says I understand your emotions,it's a women's biggest happiness,Helina says ma but when will I have these feelings because Chandra loves Nandini and I have nothing when she is the subject,mora says this isn't so,you are the mukhyarani here you can do anything what's the hurdle,Helina says anyways ma I have arranged pooja today I want you to be there and perform the Aarti I hope with your blessings I will have a baby next year,mora says yes I will perform the Aarti,Helina hugs mora.Mora walks to see Chandra and Nandini performing pooja together and is very angry,Malayketu says today our mission shall be completed . In bedroom,Nandini feels the current again,Chandra asks what's wrong,Nandini says what's in your hand I know you are up to a prank and why are you smiling,I feel current when you touch,Chandra asks where did I touch tell me,Nandini says nothing,Chandra says no let me and touches Nandinis cheek and she says see i felt again,Chandra says see you touch me,Nandini touches him and feels It,Chandra says this is in your mind,dasi informs security minister is waiting for him its urgent,Chandra says I'm leaving now but I shall continue later.Mora says Chandra for you your mother isn't important any more,the words of insult still prick me,Helina says ma Chandra isn't at fault its Nandini,Chandra has been turned into puppet, she targets you me Chaya, it's her game for this throne,for now I'm worried if it's not bindusara next,mora says Helina what do you mean,Helina says I saw last Night pandugan say only Nandinis son will be next king of Magad ,for now it's fine what will happen when Nandini will have a baby,mora says first father now his daughter I won't let anything harm Chandra now and now see what rajmata does.
Minister says maharaj Amartya has been found and he is up to his new army and on his go to attack Magad,its only acharya Chanakya who can deal with this problem,Chandra says I'm acharyas student and it will be as a thank you to him when I stand on his teachings and find Amartya ,Chandra leaves.
Malayketu gives minster money and says remember no one should learn that it's me behind you,minister says but I shall always remember you and come back when I need you,Malayketu gets angry and kill him and says no one dare trick malayketu and he doesn't leave any signs behind.
Nandini says dadi was right I'm unwell, I hear music I see Chandra everywhere.chandra enters the room.Nandini says lOok Chandra, it's so hot here,Chandra says no it's so pleasant here,and what's wrong why are you behaving so wired,and when Chandra touches her Nandini feels the current,Chandra picks her up and puts her in bed but slips,both looks at eachother ,Nandini thinks today I don't want you to go,Chandra says I'm sorry my leg slipped I hope you are fine,and I have to go and leaves,Nandini thinks am I really in love.
Pandugan thinking about his family being killed by Chandra and is dressed as guard, says today again nand reign will rule with your death, malayketu says pandugan Chandra is waiting go complete our mission, pandugan leaves and malayketu starts laughing and says this is perfect game plan.
Malti walks to Nandini and asks what are you up to,Nandini says look at moon it's so beautiful, why are you here anyways you know I'm ill I see rainbows every where and I feel current when chandra touches me Malti starts laughing and says this love have you fallen in love with jijaji, Nandini says he is my friend, Malti says it's time give your relation a new name it's love this time .
Pandugan walks to room and thinks Chandra asleep and says it's not good to attack this 
way but when it comes to killing you I will break all rules and stabs and finds it's just a doll and gets scared mora walks in and beheads him Nandini walks In and shocked to see the scene.
Chandra in jungle minister says maharaj this is false news amartya won't come here, Chandra says let's wait for some more time,guard says maharaj there is no sign of Amartya here, Chandra says someone might have alerted him let's go.
Malayketu good you killed him or else chandras life would be in danger,mora says acting as ill he tried killing my son I'm not guilty killing him, Nandini says why did you kill my innocent brother just because he misbehaved with you, Mora says think whatever you want to he wasn't ill at all it was all an act,he was here to kill Chandra and get back throne, he was here for revenge and so I did the right thing, and every mother would have done this to save her son.
Nandini says if you were a mother you wouldn't kill my Brother brutally. Mora says look at this doll he stabbed him so badly thinking it's Chandra , Nandini says may be he played with it as a doll and bhaiya took chandra as friend why will he kill Chandra, Nandini says someone has tricked my brother, mora says Nandini why do you always blame others .
Nandini says ma I never went against you,I always accepted whatever happened you gave your hatred with pitahmaharaj a brutal turn, you arent a rajmata but murderer.
Nandini in her room crying Chandra walks in and sees her and asks what's wrong Nandini hugs him and says bhaiya is being murdered, Chandra asks who did it when I had given orders not to harm him.l,he will be given justice and leaves very angry, guards get murderer handcuffed in Sabha
Nandini says this Shouldn't happen Chandra doesn't know it's ma I have to stop Chandra. Guards tell mora they are ordered to get her handcuffed in Sabha. Nandini rushes behind Chandra to stop him.
In Sabha Chandra says someone has disobeyed my rules and will be sentenced to death for this, so get the murderer in, Mora walks in, Chandra sees her and others are shocked too,Chandra says how dare you handcuff my ma and magad rajmata, mora says they aren't at fault I'm pandugans murderer.
Nandini says maharaj please stop if you take decision now it won't be good, rajmata says no maharaj continue I accept it I beheaded pandugan you can sentence me your mother to death, Nandini says Chandra please don't, Chandra says I'm sorry ma a criminal is to be punished even if she is rajmata and so you will be punished ma, Nandini faints, Chandra calls doctor.
Mora says for my son it was me before god and now because of his wife he does not even want to hear me out, malayketu says ma this isn't Chandra but Nandini and I'm your son too let me take you away from here and then I shall reveal Nandinis true face and all will be fine, Mora says I'm maharaj suryaguptas wife and we magad women never run away but face consequences and so I need no one but will handle situation on my own.
Chandra performs pandugans funeral rituals.malayketu says you said I'm not a deserving king look now you are dead and no one knows it was all my plan. Nandini wakes up scared Chandra says Don't Worry I'm here.
Nandini says if ma is sentenced To death it wouldn't be right please try and understand dont mix political and personal issues try get what I'm trying to, this would be a war, mora says this is all because of you, but not anymore my son takes me as murderer and now let's see who wins a mother or a wife I accept your punishment and there will be an argument and if I win my proposal should be accepted
Chandra says agreed.
In mahal mora is being questioned,minister asks queen Nandini did you see rajmata killing pandugan and also she had slapped your brother,Nandini says yes,minister says even Malayketu was present did you see too,Malayketu says maharaj but I,minster says just answer what you are asked too,Malayketu says yes, minister asks rajmata do you accept it,rajmata says yes,he says accused has accepted it,mora says but I have an information,pandugan wants Ill he had plotted all this act so that he can rule over Magad,Nandini says no ma even doctor had examined him,mora says these are the weapons pandugan had while attacking the doll thinking it's Chandra,Nandini says ma may be he attacked it as a doll,and if you had doubt why didn't you inform maharaj earlier.
Too,these are bindusara toys,which are turned to weapons,no ill man can do it,it's all pandugans plot, Chandra says call doctor,doctor says pandugan wasn't taking his medicines at all and he should be having seizures but nothing of it was examined,mora says I also have few letters of pandugan,here you go,Chandra reads it,mora says all those attacks in mahal where all by pandugan and we have Malayketu with few proofs,Malayketu tells everyone it was pandugan who had kidnapped bindusara,Nandini thinks my own brother cheated me kept me under such big lie.
Chandra walks to mora and says I'm sorry ma,you had to go all this because of me,and as by proofs,pandugan was here to kill me and my son,and rajmata is declared innocent,mora walks away.Nandini says ma stop but she leaves. Nandini says ma I made such big mistake,because of my brother you have faced this insult I have to go talk to ma.
Nandini to mora,says I'm sorry,mora says I don't need anything please leave,Nandini says ma when I had no one you stood with me,please at least look at me I beg of you and falls in moras feet,and says I can accept your anger but not this,mora says only Chandra can make decisions for you,and you said I'm not illegible to be called a mother,and anyways you have decided not to listen to me so better I leave,Nandini says no ma I shall leave please stay.
Chanakya performing pooja,his students walk in,Chanakya says yes tell me,he is told pandugan is dead you can now tie your hair,he asks who killed him,student says rajmata.
Acharya Chanakyas oath was competed and the difference between Chandra and Chanakya dissolved and he got acharya back to mahal.
Soon Nandini and Chandra passed their six months gap and both came close together and Chandra was waiting for Nandinis answer,Nandini accepted Chandra love,they accepted each other as husband wife.
Eight years letter when all was going well,it was time for a new storm waiting to enter Chandranandini life.
Nandini waiting for bindusara for his practise session,bindusara makes his way to fort,Nandini says today I shall punish him,bindusara rushes to him calling her ma,Nandini asks where were you,give me your hand where were you,bindusara shows his hand which are full of tamarinds,Nandini in tears,he says I heard you say you wanted to have tamarinds so I got you,Nandini remembers she similarly use to get them for her pitahamaharaj,Nandini hugs bindusara,bindusara says nothing more than your wish not even my studies,please taste it,Nandini tastes it,and she feels nauseous and giddy.
Nandini and bindusara asleep,dadi walks to them,dadi wakes Nandini and says when will your son leave you alone,bindusara says is my ma fine,dadi says your ma will soon be a mother,bindusara but she is already my ma,dadi says now you will have a baby to play with you,bindusara says really I'm so happy I will inform everyone and leaves,dadi says now look after yourself and also Chandra is coming back and you will not go he will come to you.
Bindusara shouts and announces everyone the news,he walks to mora and says choti ma will soon be a mother and leaves,mora thinks is this a happy news or sad,she always was with bindusara will she ignore him after wards. Helina practising with her son and he is very weak ,Apma says don't waste your time,Helina says he is my son,he has to be more stronger than bindusara,bindusara rushes in and says badi ma,and puts sweet in her mouth and says choti ma will soon be a mother I'm so Happy and leaves.helina says this can't happen,Apma says I was worried about this.
Chandra is welcomes in mahal,bindusara rushes to him and hugs him,Chandra asks why are you so happy,bindusara says choti ma will be soon a mother,Chandra rushes with bindusara to Nandini,mora says he never did this before left my Aarti and went away,dadi says even suryagupta was like him,he ran to you when Chandra was in your own,mora blushes.
Chandra says Nandini baby is kicking,Nandini says this happens after four months,Chandra says I'm scared but I met a astrologer on my way and he said,our son he will be like his father,Nandini says Chandra you scared me,I will be so happy ti have a son like you,Chandra says but he will look like monkey,Nandini says Chandra and it's him,Chandra says and my son will be hit by his wife too ,both share a merry time.
Content created and supplied by: Shadde (via Opera News )
Opera News is a free to use platform and the views and opinions expressed herein are solely those of the author and do not represent, reflect or express the views of Opera News. Any/all written content and images displayed are provided by the blogger/author, appear herein as submitted by the blogger/author and are unedited by Opera News. Opera News does not consent to nor does it condone the posting of any content that violates the rights (including the copyrights) of any third party, nor content that may malign, inter alia, any religion, ethnic group, organization, gender, company, or individual. Opera News furthermore does not condone the use of our platform for the purposes encouraging/endorsing hate speech, violation of human rights and/or utterances of a defamatory nature. If the content contained herein violates any of your rights, including those of copyright, and/or violates any the above mentioned factors, you are requested to immediately notify us using via the following email address operanews-external(at)opera.com and/or report the article using the available reporting functionality built into our Platform See More