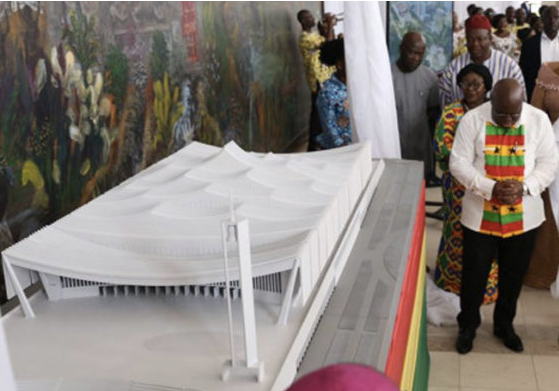 In a pure case of back and fortes, the government has come under strict criticisms after the Finance Minister during the presentation of the mid-year budget review indicated that the board of trustees of the cathedral will on August 12 launch the 'GHS 100 a month club' initiative to appeal for donations from Ghanaians towards the construction of the project, as the National Cathedral Secretariat had clarified that the appeal for funds towards the construction of the project is not an initiative of the government.
The mere announcement by Ken Ofori Atta, sparked national ridicule largely, as many reshared posts such as:
"The man promising you 1million jobs is begging you for 100cedis to fulfill a personal pledge he made to his creator...."
"its like the president pledged to build the cathedral with the Hope of getting it funded from my pocket"
The leading media organization in Ghana, Joy FM, in a post on their social media pages, and as part of their discussions this morning on their Super Morning Show (SMS) has been finding out the opinions of several Ghanaians.
Interestingly, their post on Facebook alone, the post has since gone viral, with over 2,400 comments and 13200 reactions, as it simply wrote that:
"Are you willing to contribute GHS 100 for the construction of the National Cathedral?" #JoySMS
Some of these reactions, have included the following: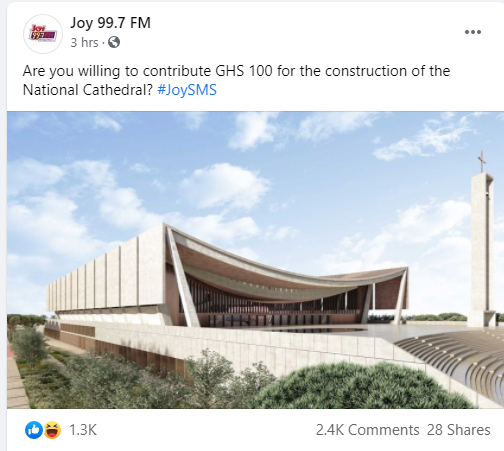 Bismark Aryee writes "Luke 14:28-30 - 28 "Suppose one of you wants to build a tower. Won't you first sit down and estimate the cost to see if you have enough money to complete it? 29 For if you lay the foundation and are not able to finish it, everyone who sees it will ridicule you, 30 saying, 'This person began to build and wasn't able to finish.' They should have gathered enough money to complete it. Don't rope us in someone's personal commitment. We all can't bring people in to bail us out of our personal commitment to God"
Manye Mamle Korley writes "Funny enough , those saying they won't pay don't even know they will be paying through other avenues, can't you see everything has been increased lately? Fuel, Gas , Foodstuffs, Taxes on everything etc the government still have a way to derive that money indirectly without our knowledge because they vividly Know individually we won't pay on our own. Stop this ignorance"
Eyram Smith writes "Lex contribute and give to the deprived, homeless, orphans etc...instead. Because if you are building a national cathedral I believe we need ppl to participate in national gathering...so lx help this people that also make up the country so that we all can join hands to build this "cathedral" if not then I think otherwise."
Banda Gh writes "Well, I will contribute if they had asked us to contribute to provide furniture for schools, to provide schools for students who sit under trees to learn, to provide portable drinking water for communities without one."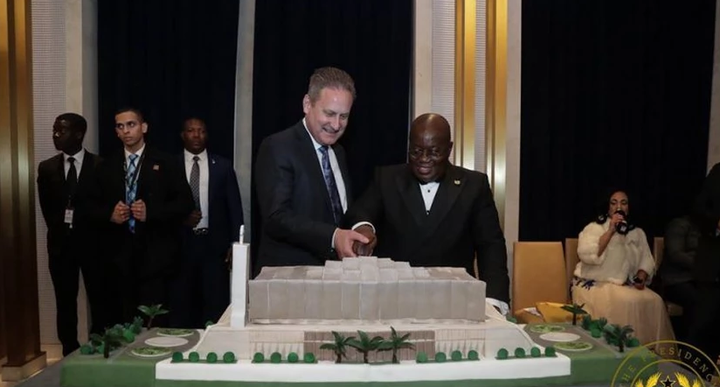 Adorkor Johnson writes "Don't we have enough churches in Ghana? We should be contributing for schools, not just hospitals but hospital equipments too, and a cleaner Ghana!!! Most people saying yes have political agendas!"
Ruben A. Rex writes "I would donate such money to Vodafone health foundation to help pay hospital bills to those who can't afford. I didn't promise God a cathedral Akufo Addo did, I am sure his one year salary can help build the cathedral.."
Ko Fi writes "I'm willing to contribute and shall be available for the construction works for free. I will carry mortar and the bricks.."
Joseph Kekeli Mensah Agbavitor writes "Honestly and frankly speaking I can't think far .I mistakenly donated Gh200.00 instead of Gh100.00 I think I have to go and see the finance minister"
Mohammed Elhuud writes "Yes but same should be done to construct dual road from Accra to Kumasi to save life"
Manfred Acheamfour writes "All the event enthralling the national cathedral is like that of Nehemiah who wanted to build the walls of Jerusalem by the approval of the king but the Tobiah's and samballat's stood against it. Irrespective of the contentions, Nehemiah built the walls to the glory of God's name. Amen"
Desire Klu writes "If every member of parliament and MP's donate 1000gh of their salaries every month for a year they can build the cathedral"
Habib AB writes "The amount these politicians are greedily stealing from Ghanaians can build this Cathedral within no time.....GOD WILL PUNISH OUR LEADERS (NPP/NDC are the cause of our hardship)...all that they know is stealing our money to better their lives"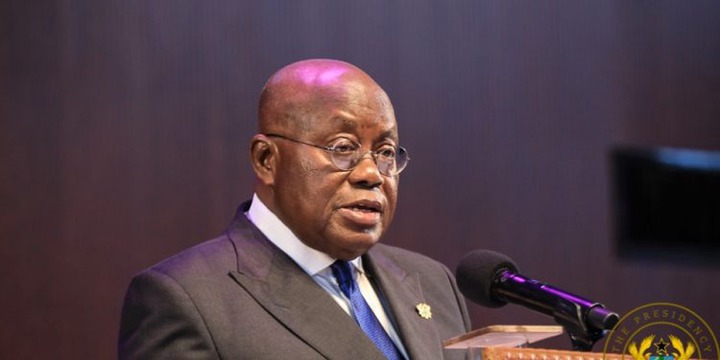 Albert Webonga Amaseh writes "Unless the school under tree in my community is eliminated. Chiana Paga equally deserves District Hospital without that , no need for contribution."
Domatiere Timothy writes "He should build the cathedral in his heart ,family n Npp. We don't need a cathedral. We need to see completed hospitals, schools factories, etc. opened. We need to see the abandoned ones continued, our roads that were abandoned should be re- awarded to the very contractors that were awarded the contracts. JM2021."
Akwasi Kissi writes "Big brain John Mahama deducted some % of his ministers and appointees salaries to build CHPS compounds, which benefitted whole communities, in solving their health issues, if health, education and development infrastructure, is not the priority of this President but a cathedral, then he can also use part of the salaries of his ministers and appointees, to build his own pledge to God."
Audrey Awentemi Atuirey writes "The president can fulfil his promise with his personal money and other incentives. I feel so embarrassed to without such a country that has so much misplaced priorities. Ghana is in a mess already. Please don't add more. Its a shame...smh"
Francis K Frimpong writes "How many times do u want to ask this Question of a poll .. clearly the YES won the last time .. so u r doing another poll to see if the NO will win then u use for a news story n propaganda.. mo na mabl3"
Estherla Banson writes "Yh I even think the Gh100 it's too small. At least GH500 per person will do. And pls govt make it compulsory .That cathedral needs to be built since God is homeless."
Nana Boateng writes "Is a choice not by force. When national theatre and Accra conference centre were built, was there not extreme poverty in Ghana. Everything is politicize in Ghana."
Amakye Ansah Francis writes "Not a pesewa! How many churches are there in this country? Misplaced priorities. I will contribute for the dualization of the Accra Kumasi Road. Many lives are perishing there!"
Osei-bonsu Nana writes "Contributing to build a house of God is a good thing .I pay to be Manchester United Fan so why can't I do same for God."
Godwin Yidana writes "The government should tax the many churches and use the revenue raised to build the cathedral. In a country where kids are sitting on the floor to learn we're building a national cathedral. What the heck is wrong with us?"
Maxwell Mbah writes "If there is no money, then there is no need for us a nation to do that, with or without national cathedral we will always worship God"
Frans-swagger Owusu writes "Our bodies are the temple of God. I'd gladly invest 100gh into my system, fufuo ghc10, yemuade3 gh30, salmon gh8. Club ghc7. The temple will grow well:
Godwin Kofi Ato Guggistle writes "100gh is even small an amount to build a house for God. I will contribute more than that amount to make God happy so he can bless me as well. When I build God a house he will build me one"
Ja Sam Isaac writes "What a homeless God we have.... he has no home than Ghana... and he chose Accra... made sure he demolished the bungalow of his own children so he will be in a comfortable cathedral which will employ no one.."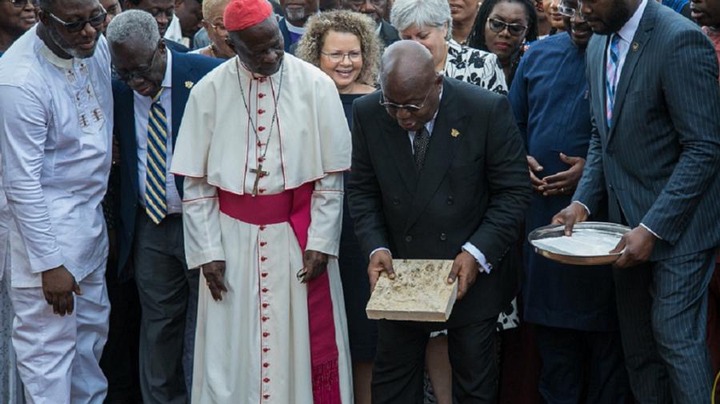 Content created and supplied by: MrsCelestial (via Opera News )
Opera News is a free to use platform and the views and opinions expressed herein are solely those of the author and do not represent, reflect or express the views of Opera News. Any/all written content and images displayed are provided by the blogger/author, appear herein as submitted by the blogger/author and are unedited by Opera News. Opera News does not consent to nor does it condone the posting of any content that violates the rights (including the copyrights) of any third party, nor content that may malign, inter alia, any religion, ethnic group, organization, gender, company, or individual. Opera News furthermore does not condone the use of our platform for the purposes encouraging/endorsing hate speech, violation of human rights and/or utterances of a defamatory nature. If the content contained herein violates any of your rights, including those of copyright, and/or violates any the above mentioned factors, you are requested to immediately notify us using via the following email address operanews-external(at)opera.com and/or report the article using the available reporting functionality built into our Platform See More