Dr. Edem and June Agamah's 25-year mission of recuperating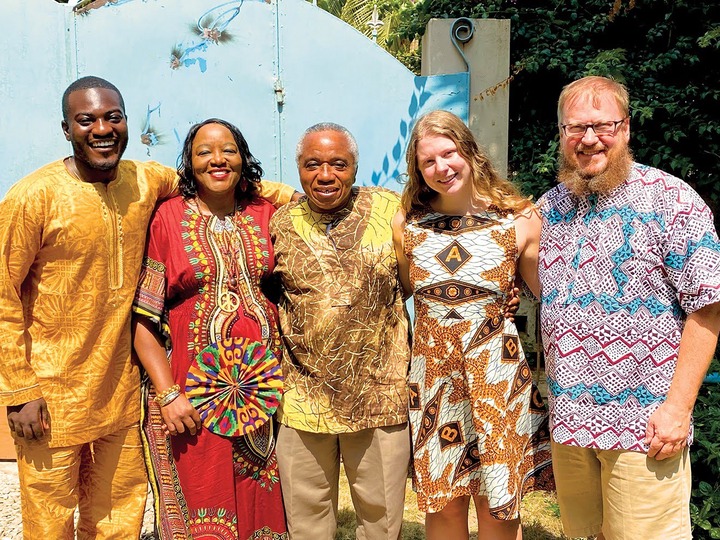 A "excursion of confidence" is the means by which Dr. Edem and June Agamah of Springfield depict their 25 years of mission work in Ghana. Beginning around 1996 they have driven 38 mission excursions to southeast Ghana. What started as a stopgap center under a mango tree is currently a long-lasting medical clinic with more than 100 staff who treat 30,000 patients yearly. More than 400 volunteers, 55 clinical understudies and 86 specialists, most from the Springfield region, have taken part throughout the long term. Because of the Agamahs' eager commitment working one next to the other, individuals approach medical care and many lives have been saved. "The delight and fulfillment that we get is indispensable," said June Agamah. 
Ghanaians aren't the main recipients. So are the numerous Springfield-region specialists, attendants and clinical understudies who have gone on the outings. Dr. Keith Wichterman, a neighborhood specialist, went on the 2008 mission trip with his family. He had chipped in with clinical mission excursions to Haiti and Nigeria beforehand. "I've never realized anybody to do one of these mission trips that doesn't return changed," says Wichterman. Dr. Agamah routinely takes neighborhood clinical understudies with him. Many understudies who have taken an interest in the mission trips are presently committing their lives to professions in medication and general wellbeing. "That is the supernatural occurrence," says Wichterman. 
Starting the excursion 
Dr. Agamah's folks went from Ghana in 1991 to visit their child while he was an inhabitant in inside medication at an Evanston emergency clinic. They shared the desperation of issues in Ghana and beseeched their child to help. Yet, the degree of infections and conditions showed up so overpowering that he didn't have the foggiest idea how he could have a significant effect. Notwithstanding, the seed was planted. The Agamahs moved to Springfield with their three little youngsters in 1995. Dr. Agamah joined the Central Illinois Hematology Oncology Center. Simultaneously, he focused on aiding in Ghana. He has done this as a volunteer for the beyond 25 years while proceeding to work all day as a clinical specialist. Agamah is presently an oncologist, hematologist and academic partner at SIU Medicine. 
The Agamahs joined the International Health and Development Network (IHDN) as a clinical missions philanthropic association in March 1996. IHDN tries to foster successful and manageable essential medical services programs in unassuming communities and towns in the creating scene, utilizing the natural work of Jesus Christ as a model. IHDN is an organization of volunteers committed to assisting helpless towns in agricultural nations by engaging them with clinical and general wellbeing information and confidence in God. IHDN follows a way of thinking like the standards of the World Health Organization: "Wellbeing is a condition of complete physical, mental and social prosperity and not just the shortfall of sickness or illness." Several Springfield-region specialists serve on the IHDN governing body. 
Their first mission trip in April 1996 was educational. Dr. Agamah experienced childhood in Ghana and procured a practitioner training from the University of Ghana Medical School in Accra, however he didn't have a clue about the extent of the issues in his local country. He went to the U.S. in 1987 for graduate examinations at Louisiana State Medical School. While there he met his future spouse, June, who had moved to New Orleans from her local nation of Guyana in South America. 
A companion presented them, thinking they were from a similar country; they were really conceived a sea separated. They reinforced over their common love for God and shared enthusiasm to turn out to be more similar to Christ. At the point when they wedded in 1988, they realized they were called to serve God. With their different organization of loved ones, their wedding was an endlessly multicultural occasion. Uniting the world and serving God have been constants in their lives from that point forward. 
On their first mission outing to the helpless town of Agbozume where Dr. Agamah's folks lived, they went with 93 bags brimming with over-the-counter prescriptions, meds gave by companions and associates, child food and diapers and their three kids who were five and under. Dr. Agamah's dad, a profoundly regarded bank chief, set up a stopgap center in a structure and under a mango tree with bedsheets hung to isolate patients. June bounced in and short-term turned into a medical attendant's helper. Dr. Agamah saw patients with jungle fever. Many were seeing a specialist interestingly. The quantity of patients was overpowering, the experience was debilitating and at first he said he wasn't returning. 
That was not adequate to his mom, whom Dr. Agamah depicts as a little lady loaded up with shrewdness and energy. She told him to "proceed to ask and that God will direct us." Indeed, he didn't surrender. He read about other fruitful endeavors, and they got back to Ghana in 1998 with a huge gathering of medical caretakers, specialists and companions from Springfield, Memphis and New Orleans. His folks' home in Agbozume filled in as a facility with the lab in the kitchen. Here they saw patients and furthermore prepared other medical services laborers. They showed individuals how to forestall intestinal sickness, actually taken a look at pulse and recruited a youthful specialist who was enlivened to accomplish mission work. For quite some time they returned every year and saw more than 5,000 patients every year. 
In 2002, the specialist they had employed to staff the facility left to work in an emergency clinic somewhere else and the center shut. The Agamahs kept on heading out to Ghana consistently, gathering bags with provisions. Dr. Agamah's dad was attempting to set up chapels in far off towns, through the Evangelical Presbyterian Church of Ghana. They went with his dad, offering clinical types of assistance in poor, provincial spaces of Ghana. For some, this was the main specialist they would see all year, every year. 
Building an extremely durable medical clinic 
To give a more long-lasting office, the Agamahs began searching for land. They submitted their family reserve funds and in 2006 bought 23 sections of land in the bramble at Weta-Agbozume, which they gave to IHDN. There was no water or power. They got earthmoving hardware, acquired utilities and opened the new office in June 2008. Building a long-lasting clinical office was a significant defining moment. 
The International Mission Hospital opened as a short term center. Every town has its own boss, and each of the bosses were available at the devotion. Dr. Keith Wichterman, a specialist, his significant other, Dr. Lisa Wichterman, a radiologist, and their three kids, all from Springfield, were essential for the 2008 mission trip and went to the devotion. Keith Wichterman and Edem Agamah were long-term clinical partners, and they had girls at Springfield High School who were companions. This mission trip was the biggest, with 32 volunteers, for the most part from Springfield. 
In Ghana, Wichterman did various medical procedures, yet after 13 years he actually says, "individuals you serve are the ministers to you." All three of the Wichtermans' grown-up youngsters are presently working in the clinical/general wellbeing field. 
Opening the extremely durable short term facility was not the finish of the excursion. The Agamahs have kept on raising assets to grow IHDN's medical clinic to address the endless requirements. Numerous patients should have been conceded; a 100-bed ongoing office opened in 2013. The following issue was the place where to house medical attendants, so they assembled staff lofts in 2014. A ladies' and youngsters' center is being added, and a sunlight based plant was as of late introduced. 
Dr. Agamah noticed that it is simpler to construct an actual emergency clinic than to prepare and staff it. Medical clinic Sisters Mission Outreach in Springfield and the Midwest Mission Distribution Center in Chatham are imperative accomplices, as assets for hardware and supplies. So are Memorial and St John's Hospitals, which have secured supplies and medications. The Agamahs have enrolled and helped train clinical staff, giving full grants to in excess of 20 town understudies from networks served. Recipients should resolve to get back to work at the International Mission Hospital in Ghana. There are currently 113 staff, all from Ghana, including three specialists and 43 medical caretakers. Dr. Henry Xorsenyo Kpeli is the clinic's lead clinical specialist, and there are yearly clinical courses among the Ghanaian and U.S. specialists. 
Presently, around 90% of the neighborhood populace approaches quality medical services. Individuals are done kicking the bucket because of hypertension and labor. The emergency clinic has worked on the personal satisfaction while likewise decidedly affecting the economy, both straightforwardly and in a roundabout way, through development occupations, business and land advancement. June Agamah, who has a graduate degree in general wellbeing from University of Illinois Springfield, works from Springfield as volunteer coordinations organizer. In Ghana she centers around administration and staff preparing, featuring the significance of building trust, proceeding with staff advancement, showing others how its done and showing sympathy, which she considers the most significant. She drives conversations among staff about staying away from oblivious predisposition in recruiting. 
Wichterman has seen firsthand the Agamahs' benevolence, enthusiasm and devotion. "Their realness is genuine," he says. They have figured out how to make a big difference for the emergency clinic while numerous other good natured endeavors all throughout the planet can't do that. Wichterman additionally praises the Agamahs for the impact these mission trips have had on youthful clinical understudies, opening their eyes to an alternate world and moving numerous to professions in medication. 
The International Health and Development Network has no paid staff in the U.S. The Agamahs have devoted their lives to this mission fill in as volunteers. It has additionally been a family undertaking. Their three little girls, presently youthful grown-ups, have been a piece of the mission trips since the time the most youthful was only 1. Their most seasoned girl is a fourth-year clinical understudy at the University of Chicago and their most youthful a third-year clinical understudy at SIU School of Medicine. 
June says they at first idea creating and supporting a medical clinic in Ghana would be a lot of work. Their confidence is central, and they have propelled others to add to their vision.
Content created and supplied by: Mispa (via Opera News )
Opera News is a free to use platform and the views and opinions expressed herein are solely those of the author and do not represent, reflect or express the views of Opera News. Any/all written content and images displayed are provided by the blogger/author, appear herein as submitted by the blogger/author and are unedited by Opera News. Opera News does not consent to nor does it condone the posting of any content that violates the rights (including the copyrights) of any third party, nor content that may malign, inter alia, any religion, ethnic group, organization, gender, company, or individual. Opera News furthermore does not condone the use of our platform for the purposes encouraging/endorsing hate speech, violation of human rights and/or utterances of a defamatory nature. If the content contained herein violates any of your rights, including those of copyright, and/or violates any the above mentioned factors, you are requested to immediately notify us using via the following email address operanews-external(at)opera.com and/or report the article using the available reporting functionality built into our Platform See More