Man arrested for duping three people at Ash Town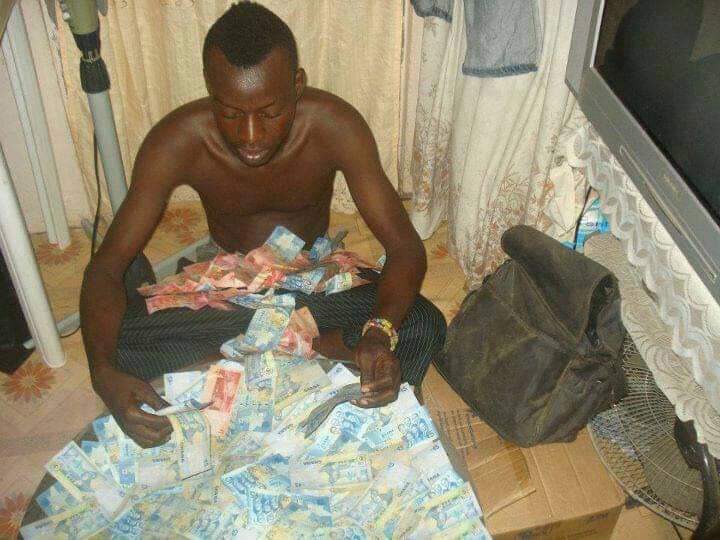 Douglas Owusu, Adomba Akwasi Gudeio and Desmond Agyapong has caused the arrest of Yusif Abubakar, over his actions that lead to the three spending their school fees on him. Yusif who behaves and acts as a spiritualist, on the 19 of January, met Douglas when he was going to Ejisu. Douglas who had earlier applied to Kumasi Technical University, was waiting for his admissions whiles the school was wrapping up their admission for the 2021/2022 academic year. He had a nice grade, but was afraid he won't get in because of his maths. Douglas had C6 in maths, and was downplayed by Yusif, when he met him at Ejisu zongo junction. 
Yusif used his influential powers he had on people, and made predictions that was true about Douglas. He added that, the young man was looking forward for something, but the thing wasn't going to come because his family was the reason behind the delays. Yusif blamed Douglas mother for been the cause of the delays, and made Douglas sworn not to tell the mother, but do everything what he Yusif will tell him, and he will get whatever he was waiting for. Douglas opened his secrets to Yusif, when the first predictions from the man came through for him. 
He told him all about his family, and Yusif used the gentleman to enrich himself. Admission fees that was less than GH¢3,000 Yusif made Douglas take GH¢7,500 from the mother and gave him back the GH¢3,000 to go and pay his admission fees and leave the 4,500 with him, so he could protect his soul and future with that money. Douglas did not reason the man was playing on his intelligence, and brought his two friends, when he got the admission to KPoly. Douglas reported to his friends that, he had a friend who was powerful and can help them study well with a little effort, if they go and see him. Yusif when Douglas sent his two other friends, made them believe it was ok to use human sacrifice and gain money. All they had to do was bring him GH¢5,000 each so he can help them become kings of money at their campus. He was going to use the 5,000 to buy the human blood for them, so he can use it for the rituals, which would have brought them their richness. 
The three men, Douglas Owusu, Adomba Akwasi Gudeio and Desmond Agyapong, went through all sorts of things, and came up with the money. They got some of the money from their parents and used the rest from betting games, before they were able to get the total GH¢15,000 Yusif asked for. The three sent the money on 3 March, and Yusif made then aware, he was going to use the money they brought, to give them double money which will never finish no matter how they spend it. The three were glad to be finally given a chance to be young millionaires, and went preparing for their yet-to-begin fame. 
Yusif could not be found again, when he told them to go on the 3 March, after they gave him the 15,000¢. Yusif disappeared from his place of worship at Ejisu zongo and the three couldn't find him until Sunday, 28 March 2021. They found Yusif at a party which was organized by one woman who was celebrating his birthday, and Yusif denied knowing all the three. The three men reported the issue to Ash town police who arrested Yusif this morning, when he was in the process of repeating the same thing he did to the three men, to another person at his new place at Ash Town. Yusif has since the morning he was arrested, denied knowing Douglas Owusu, Adomba Akwasi Gudeio and Desmond Agyapong. He has refused to taking money from them, despite Douglas providing picture evidence of giving the money to him and a phone recording which proves it was him. Yusif has denied both recordings that, his voice and name may be the same as the one who went missing at Ejisu, but he Yusif at Ash Town was not the same Yusif who duped the three men at Ejisu zongo. But the bag the three men used to carry the money, was the same bag Yusif had behind his bedroom at Ash Town, the police believes he has been lying and has since denied him bail.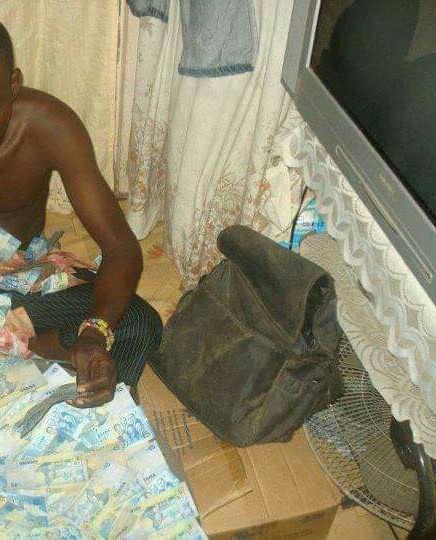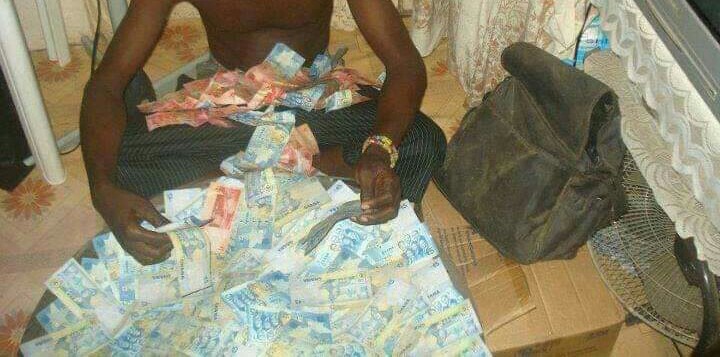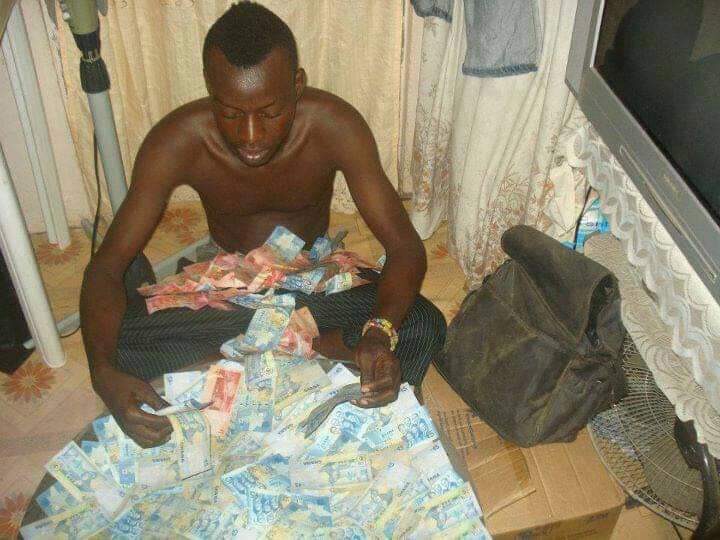 Content created and supplied by: RockyJDJones (via Opera News )