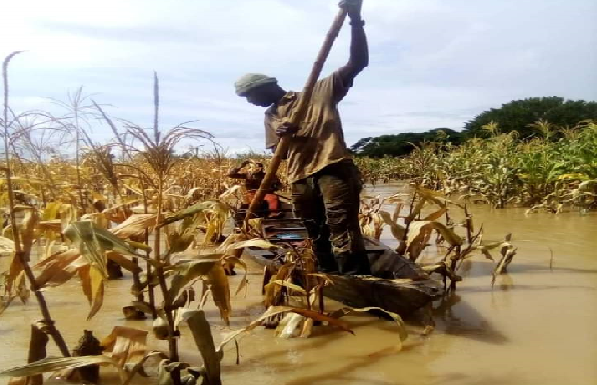 In Ghana, particularly northern Ghana, flooding has become an annual occurrence with diverse negative implications.
Majority of the inhabitants are farmers, either on a large scale or backyard farming. The rural folks especially depend on this trade for survival. An obstruction to their activities means a cut in their cash flow and therefore deepens the dependency on extended family members.
Flooding which has become a major canker, destroys farm produce, leads to the collapse of buildings and educational curriculum. The long term effect is that children are out of school, parents are rendered jobless and become financially weak.
The ripple effect of this is that "a hungry man" is difficult to control. Desperation for survival sets in, and the tendency to do "anything" for survival will hang on their necks.
The inability of state institutions to manage such situations can lead to increase in crime (armed robbery and drug cartels) in these affected communities.
It is therefore necessary government finds a lasting solution to this problem.
Some solutions that could be considered include: engineering and non engineering techniques. When considering engineering solutions, we should ask our selves as a nation: 1. How deep are our gutters? 2. Is it not possible to close all our gutters? I say this because, it is difficult to control human behavior but you can control how our reckless behavior affects the environment. 3. Do we stick to our building plans? What will it take to demolish houses on the water ways? Let us remember that water has a pathway and when it finds an obstruction, it would either push it down or pass a different way which could lead to someone's livelihood.
With regards to non engineering techniques or policies, do we have flood management policies? If we do, are effective are they? Do our rural communities have local flood management policies like the bushfire bye-laws?
The time to act is now. We will soon experience the rains. Are we ready? Ask you wear your mask to prevent covid, think about the soon to come rains and the possibility of flooding.
God bless Ghana.
Content created and supplied by: Naaeder (via Opera News )