Two seriously injured at Kpone Prampram highway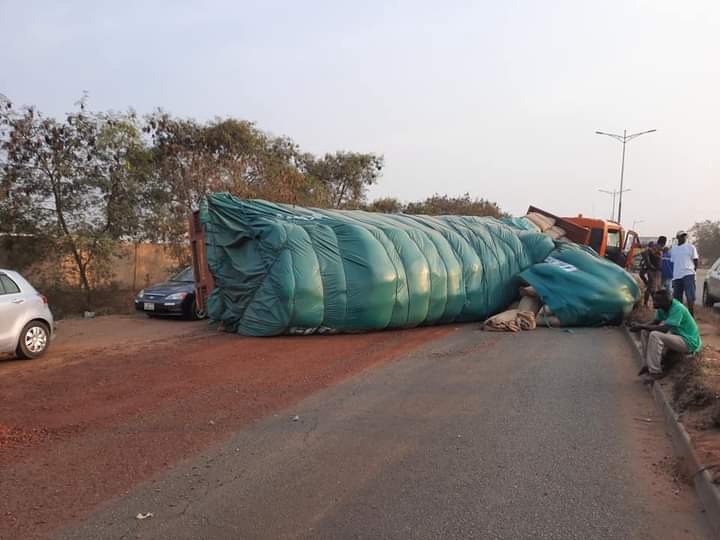 Heavy traffic has been seen on the Kpone Prampram highways, after two trucks newly crushed this morning. The trucks which were both loaded with goods, were having visibility problem navigating the road, which ended them almost causing a major accident. A cement truck fully loaded with cement coming from a warehouse at Prampram, was heading to Kpone to do offloading when, the driver couldn't see the road clearly. The driver of the cement truck who was driving without fog lights, failed to stop when he was struggling through the early morning fog weather, on the Kpone Prampram highways. 
From Prampram to Kpone is a road full of traffic, and drivers try their best to drive early in the morning, to beat the daylight traffic. The road which is half asphalted, is one of the busy roads in Tema Metropolis. From Prampram to Kpone, just a mile away to the Kpone barrier, was where the cement truck lost control. His fog lights were not working, and he couldn't see ahead of himself. A parked trailer which spent the night by the roadside, was trying to move on to the road when the cement truck moved into it. The trailer driver did not see the cement truck approaching because, there was no fog lights showing that, a car was coming through the heavy thick fog. As soon as the trailer truck vent his gas onto the highway, was when the cement truck lost balance and tried saving himself from causing a major accident on the road. 
The cement truck almost crushed the trailer because, it was seconds away from the trailer, when it moved to the road. The cement truck in trying to avoid hitting the trailer, moved sideways, which ended the load turning the heavy duty truck. The driver was able to control the full truck, when he tried drifting the heavy loaded truck into another direction, the other lane of the incoming traffic. The two truck attendants who were all sitting at the front seat, clashed their heads together as the truck tried overturning. Both victims were taken to the Kpone hospital, but was later referred to the Korle Bu Teaching hospital for emergency assistance. One of the attendant Musa, was having a bleeding nose during his referral to the teaching hospital. First responder believe, he must have fractured his skull, when he crashed his head to the other attendant. The driver did not sustained any injuries, and was doing well. The trailer driver and his attendants were all fine, as nothing happened to them. Police from the Kpone barrier was still on scene, directing traffic and making sure the truck is moved out of the highway. Drivers coming from Prampram or Kpone, hoping to use the highway, are advised to found other routes as traffic mounts on the road. The Police is expected to clear the road for commuters before 3 pm this evening.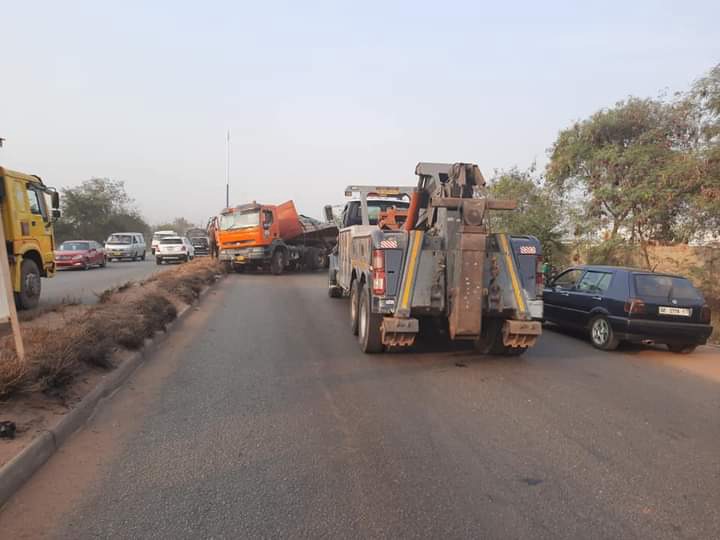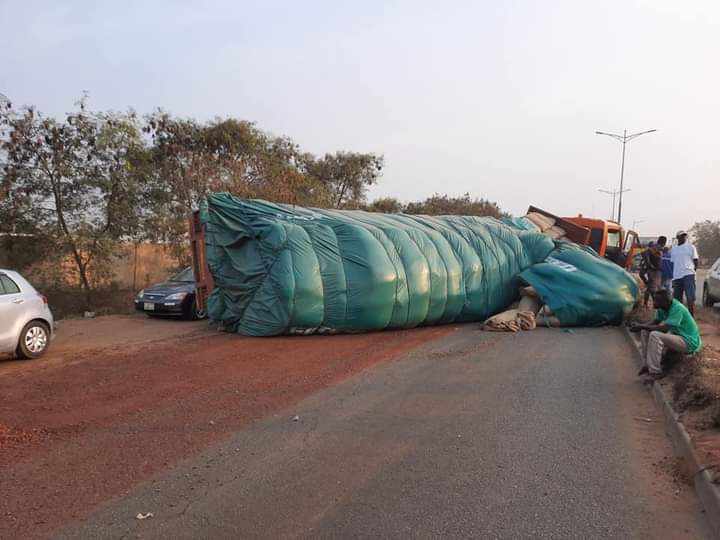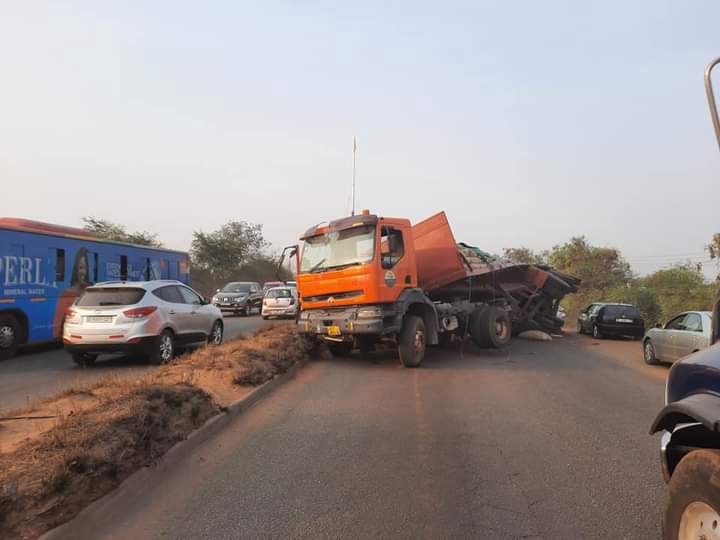 Content created and supplied by: RockyJDJones (via Opera News )