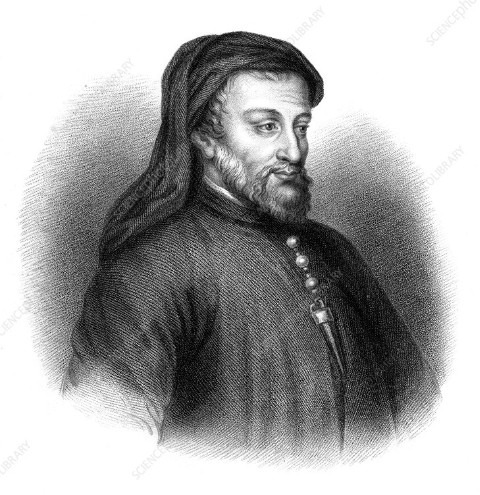 Geoffery Chaucer, the greatest of the early English poets, who worked for Henry V's father, tells such a group travelling to Canterbury.
His pilgrims are of all kinds, good and bad. One the attractive is the pardoner. He pretends he can forgive sins and stop them from going to Hell and help the go to heaven when they die. He will help anyone who pays him.
The pilgrims take it in turns to tell other stories. Though the journey to Canterbury may seem shorter. The pardoner sees the advantage to make money. This are the types of stories he entertainment his fellow pilgrims with.
Once there two men and young boy drinking in a tavern. A coffin passes by. Someone asks who the dead man was "A friend of yours" it is said he said last night, while he was drunk, a thief called death stole his life away. He has stolen away many lives. One of them suggests "We have find this their called death!".
The three agreed to go and look for death. They met an old man who tells them he knows death very well. I'm old and weak that I'm ready to die but death won't come for me. If you want to see him go under that oak tree up the lane. That's where I last saw him.
Without stopping to thank him the three of them took of to the oak tree. The young boy gets there first and gasps and pointing. When the other two saw what has startled the boy. There was a great heap of gold spilling out from the hollow tree. They forgot about death and got very excited over what they saw and what to do with the money. "We must not be seen taking it away in daylight, we have to wait until it's dark." The men sent the youth back to the tavern for a drink.
As soon as he was gone, the two men plotted to kill the boy when he gets back so that there will be more money for each of them. When the youth returned back they draw their daggers and stabbed him to death. The men laughed and drank the wine.
Little did they know that the boy has been plotting too, and has poisoned the wine.
The men clutch their throats and fall on the ground on top of the grass. Now there are three corpses under the tree. Their wish has been granted; they have found death!
Like, comment, follow and for more interesting articles.
Thank you.
Content created and supplied by: Phaiza_Gh (via Opera News )