Crime in Ghana was a very alarming canker which bombarded the police service into series of investigation coupled with low level of technology.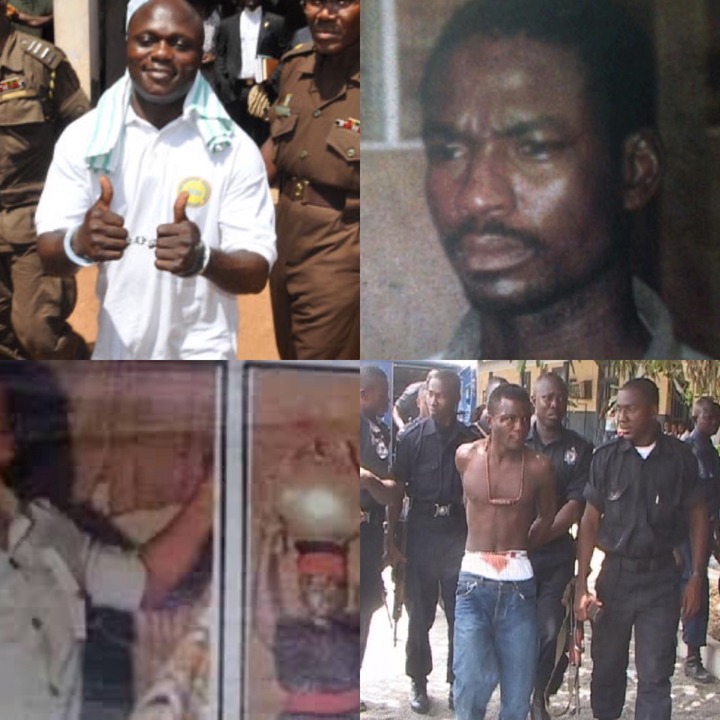 Unlike today we enjoy peace and calm, there have been a few very notorious criminals whose crimes legacies still live on till today.
Most of them we just a had nut to crack, it took the Police several years to apprehend them but others were arrested due to betrayal and in the weirdest of ways.
Let us get to know these armed robbers who have terrorized Accra and other parts of the country leaving every Tom and harry running into their mothers huts in fear just at the mention of these criminals names.
1.First on the list is the most popular of and notorious of all, born with the name Raymond ayi ayitey popularly known as Ata ayi was a convicted criminal.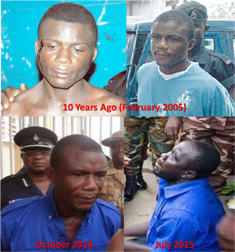 Ata ayi was born in adabraka in the capital Accra and was taxi driver before getting into armed robbery after his mum had travelled to the Uk with her suiter.
Ata ayi could make a car stunt which could only be seen in Hollywood movies, in fact he was a very good driver.
He was arrested in the north on the 25th of February 2005 after beating one of the tenants in his sisters house for slapping his Mum.
He was arrested on counts of assault but was later recognized as the most wanted man in he country , he is now a pastor and has totally changed.
2.Doctor ram beckly was a health worker and an occultist who kidnapped School children and small children who sold groceries into his house in old fadama and sacrificed them to his gods.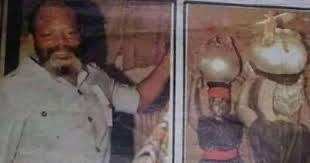 His house was dismantled in 2003 after one of his captives managed to escape and her parents alerted swiftly in arresting him.
Several school uniforms and human skulls as well as shoe maker's boxes where found in his house , he was fined and released from prison but no one has heard of the terrifying ram beckly again.
3.Charles papa kwabena Ebo Quatson was a rapist and Serial killer who terrorized Accra like no other, he operated specifically around mataheko.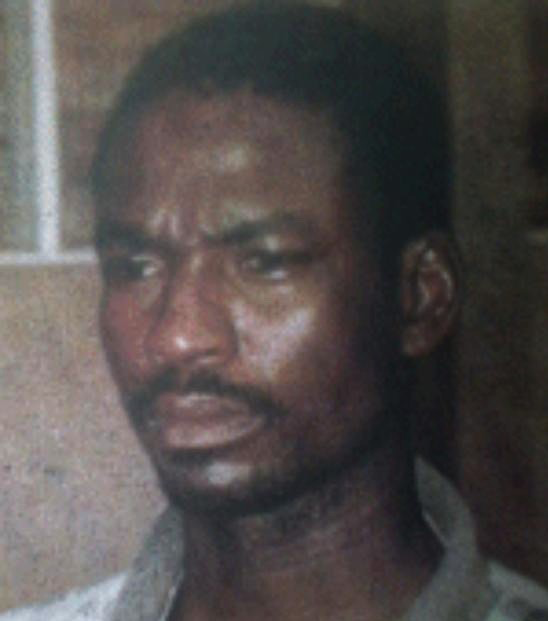 There were several complaints of cases of raped and murdered women Day in day out which frustrates the police so much that it had to take 7 years before he was arrested.
Ebo's arrested came as a result of his girlfriend's efforts who wasted no time in reporting to the police when he came back home in a short full of blood.
Investigations were carried out and the blood stains matched that of his victims and he was sentenced to death by hanging.
4.Infact the name Kombian resurrects a lot of fond memories of his escapades and dare devil behaviors which showed how courageous he was.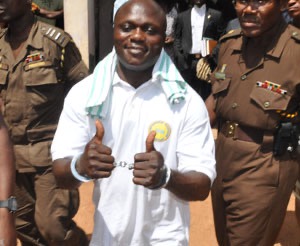 Johnson Kombian baaman aka gaalkum was born in nankpanduri in the northeast region of Ghana where he murdered a police man over a dispute of a radio tape recorder.
He was first sentenced to 6 years imprisonments and was camped at the tamale central prison where he managed to brake jail.
He was rearrested in dapaong which is a cross border town in the neighboring Togo and after he had attempted visiting his girlfriend.
He was moved to the nsawam prison where he tried to escape but failed, he is now under very tight supervision and is currently serving his jail term.
Please if you find this article interesting please support me by tapping on the follow button above and share this article to your friends and family thanks for reading.
Content created and supplied by: Informative-news (via Opera News )