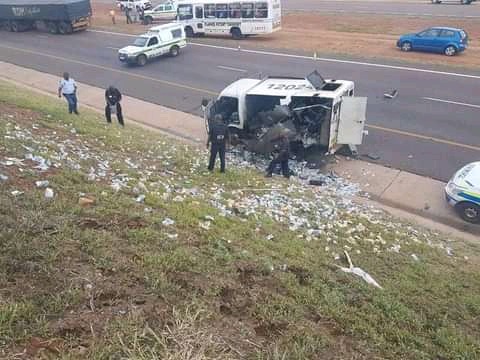 At Around 4pm at Tano, a small town in the Oti Region of Ghana, a 'trotro' (Sprinter) with an estimated number of over 12 passengers got into an accident and about 5 people were confirmed dead on the spot whilst several others sustained various degrees of injuries on their bodies.
The incident which occured on Monday, March 22, 2021 is a very tragic one, for even most of the survivors are critically injured and their chances of survival is extremely narrow. This is how the whole accident happened according to eyewitnesses.
The car was traveling from somewhere Hohoe in the Volta Region to Kpasa in the Oti Region of the country. The speeding vehicle then lost control over its brakes and the driver couldn't do anything on the smooth asphalted road. His efforts rather led to the sprinter somersaulting on the road. Thank God it somersaulted only once.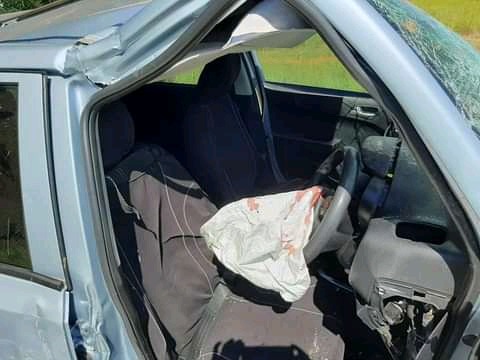 Including those who died were the driver himself, the two people sitting in the front seat with him, and a mother and a 10-year old girl. It was a very tragic situation and people couldn't hold their tears. The others included businessmen and women who are going to buy yam and other stuffs from Kpasa, families and others.
These days road accidents keep claiming the lives of innocent people largely because of the inability of drivers to adhere to safe driving precautions. They speed on the road without considering the fact that all the passengers have their lives in their hands. No wonder they are known to protect eggs when driving than their fellow human beings. Have you ever seen a car carrying eggs had an accident?
The police together with the roads safety agencies must work hand-in-hand to ensure that innocent lives are not lost every day by regulating and enforcing these road safety protocols and precautions. Accidents keep rising by the day and something surely must be done about it.
Content created and supplied by: Discoverers_Gh (via Opera News )