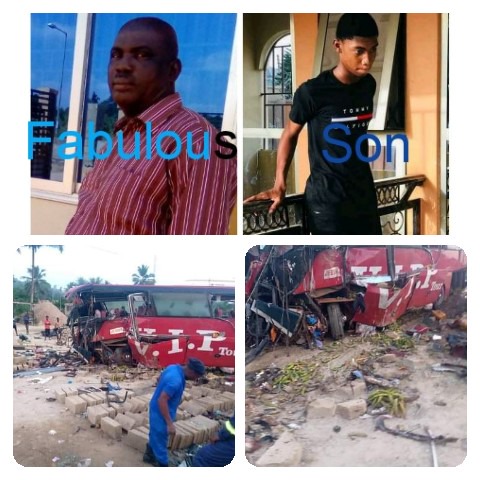 The whole nation did not hear good news on Friday the 26th February, 2021 when two VIP buses crashed at Akim Asafo killing several passengers with others seriously wounded.
It was thereafter reported by several credible media houses that 16 passengers had died from the accident. But the latest information coming from the Eastern regional MTTD police Offier, Chief Superintend Stephen Kofi Ahiatafor confirms that 3 additional passengers have died raising the death toll to 19 instead of 16. The police ascertained the cause of the accident from the scene. According to Mr Stephen, the "VIP bus from Accra was on top speed trying to overtake another car but realised there was a trailer packed ahead, so the driver veered off into the lane of the VIP bus from Kumasi which resulted in the crash". The Police team visited the various hospitals; Kyebi Government Hospital, Suhum Government Hospital, Akyem Asafo Health Centre to see how the accident victims were faring. The Eastern regional police commander, Chief superintend Kumador advised passengers to take serious steps to prevent drivers from over speeding.
When the accident happened, both drivers died but another painful part is that, the driver of the VIP bus from Kumasi (a.k.a Fabulous) perished with his own biological son. The young boy functioned as the "drivers mate" on that fateful day. When the bus set off from Sankore, the young boy asked permission from the senior mate to allow him handle that position. The mate obliged and went to the back seat. But unfortunately, both father and son died in the horrific accident.
May their souls rest in perfect peace.
Don't forget to hit the + follow link for more updates and other exciting news.
Content created and supplied by: RainbownewsGh_official (via Opera News )