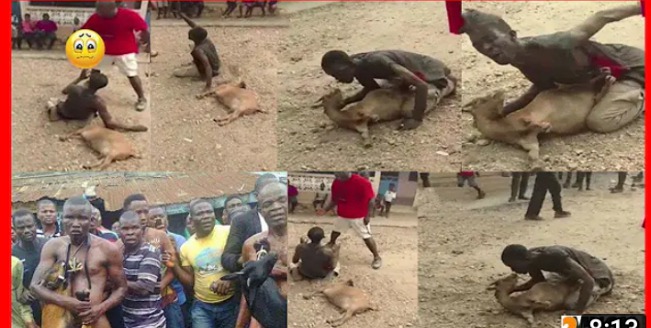 Good morning once again to our followers out there we are very grateful to have you as our Followers, and please if today is your first time viewing our article or you have, but not following. Kindly do us a favour by clicking the +Follow button that get access to all our newly published articles.
Very funny but sad news hits Nsawam in the Eastern Region. The whole issue on ground is that a man have gone to steal someone's goat and what happened next will surprise you.
One of the eye witnesses said that, They were in their shops when they heard a goat screaming, and we all know that goats have different tones for screaming whenever they are in a situation and when they are not. 
So the eye witness continued that, per the way they heard the goat screaming, they rushed to the spot by tracing the sound of the goat screaming. He said when they got there they saw the goats mouth inside that of the thief, so they wondered what was actually going on. 

Without hesitating the grabbed the man and started asking him questions like, "Do you owns the goat, he didn't answer"
" Why is the goats mouth in yours, then he replied that because the goat was screaming"
So the eye witness said immediately the thief finished answering the questions, then they started beating him mercilessly and asked him to sleep with the goat.
The sad aspect is that, when the thief heard that the goat was extra screaming when, he quickly break the goats neck before the people arrived.
God being so good the police Intervene and as at now the matter is with the police. 
So should the thief be in police custody for years or may he be released, and did the people do the right thing for allowing the man to do the thing with the goat?
We will be very glad when you follow us to get access to more trending news and stories, your comments are warmly welcomed. Kindly drop your idea about this news in the comments section.
Thanks for reading our article. Please do us a favor by clicking on the +Follow button in order to get access to all our newly published articles.
Like
Share
Follow
Comment
Content created and supplied by: Davidographix (via Opera News )