*ATTENTION COLLEAGUES* 
For those who are posting cash gifts as an empowerment grant.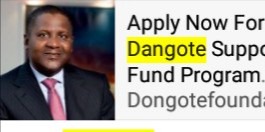 Be Smart and Ignore those links for your Own Good. There is a New link circulating on social media claiming Dangote the richest man in Africa is given out free money.
Below is how the hyperlink looks like.
"2021 Dangote Empowerment Hurry Now Check if You are Eligible to Receive a Cash Price As Part Of Dangote Empowerment Grant.Apply Here"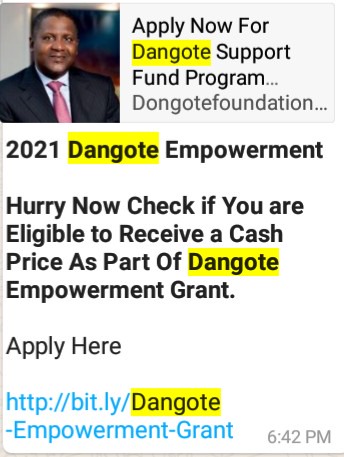 Stop forwarding as received without proper Verification.There isn't anyt any free Money,There is no free Credit There is no free Data anywhere in Africa through Links.
Let me teach you a few basic ICT. Any Link that start with *"http* " is most likely a phishing link. A right link that is genuine should have the *(s)* this means that secured. It should be like this *https* .
Phishing is typically intended to get your Personal information including your date of Birth, Bank Account Number etc. 
*BE ALERT*
This is how Scammers and Hackers steal your identity and use them to Scam. 
*PLEASE BE CAREFUL AND TAKE NOTE*
👉Avoid random links. 
👉Avoid these kinds of null Data links, 
👉MTN, Airtel, etc are not sharing data. 
👉The Government isn't always sharing Money through WhatsApp
👉Your Bank is not sharing Money 
Because of corona virus,Everybody is hot searching for money , Don't allow scammers to scam you .
Content created and supplied by: Christlike1 (via Opera News )