29-year old man dies 5 days after his wife's death 
The Oyoko Abusua of Atwima Nwabiagya has been called to a state of morning, after their son took his own life this morning. Sasu Richmond, who was a trained teacher by profession, could not handle the death of his wife. And in return, took a knife and stabbed himself in his two bedroom apartment. Sasu was to start his morning class with Atwima D/A Basic school, but he didn't show up for work. Colleague teachers took charge of his duties, and lectured his class on his behalf. They thought he was still mourning the loss of his wife, not knowing he has taken his own life with a kitchen knife. 
Sasu married Vic (Victoria Addea) on the 30 of January 2018, after been together for almost two years. Their relation which started off in 2016, saw Vic and Sasu been the best of friends. Vic was Sasu's best friend and they grew from friendship to marriage, when Vic suffered a broken relationship with her ex. Victoria was to get married to a doctor in 2017, but the doctor failed to marry her, when he got the chance to travel outside. 
The doctor told Vic to find another man when he got a British visa. This went a long way hurting Vic, because of the deep connection she had for him. Sasu took the moment to console his best friend, and ended up been her soul mate. Their relationship grew from friendship, and got married in 2018. Sasu was not an inch away from his wife, and neither was Vic. Their undying connection, forced the Atwima D/A Basic School headmaster, in transferring Vic from the school. This was done to make way for Sasu to concentrate on his students, instead of been seen with the wife all the time. 
Sasu got a call on Sunday whiles in church, that his wife was in labour. He was to go to church with her on the Sunday, but he couldn't, because she was feeling unwell. Vic was heard by neighbours, screaming when she fell her baby coming. They took her to the Atwima hospital, where doctors needed Sasu's approval before taking her to the surgical unit. Sasu was able to get to the hospital in time, and Vic was taken to room. She was forcing, but the baby wasn't coming, so doctors needed to operate on her to deliver. Vic couldn't and died in the process on Sunday evening, and neither did the child too survive. 
Sasu burst into uncontrollable tears, when doctors told him about the sad news of his wife. He almost went mad, but doctors pulled him into counseling, and was able to stabilize him. Sasu since the Sunday evening his wife died, barely eats and even takes care of himself. His mother Ante Nyimaah, who was taking care of him, kept complaining but nothing came out of it. Ante Nyimaah woke up this morning, to perform his house duties. He went back to check on Sasu around 8 in the morning, and Sasu was already laying in a pool of his own blood. He has taken his own life with a knife. He was already dead several hours, before they found him. His body has been deposited at the Atwima hospital mortuary. Sasu's family is working closely with Victoria's family, so they both can organise a befitting burial for the two. Vic who was scheduled to be buried on 27 March 2021, will either be buried with her husband Sasu on that day, or on another date when the two families agree on it. Family and friends believe Sasu was murdered because of emotional abuse. He couldn't control his emotions over his wife's death, and that caused his death.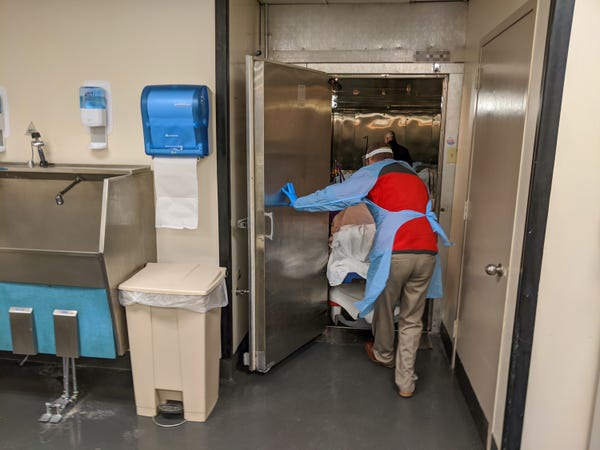 Content created and supplied by: RockyJDJones (via Opera News )