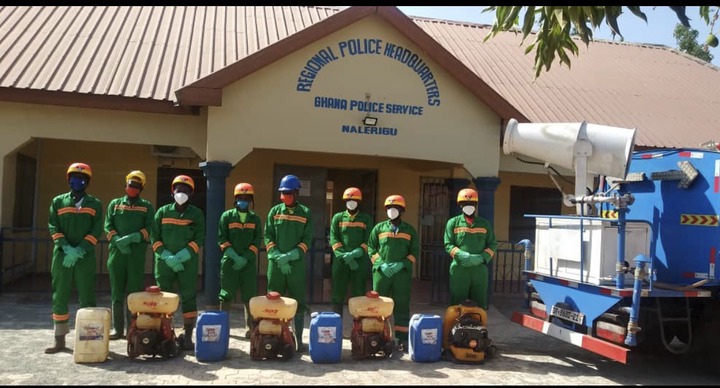 Three prisoners at the North east regional police station have tested positive for covid 19.
This was revealed to the media during the ongoing disinfection exercise by government and Zoomlion Ghana Limited.
According to DCOP Moses Kofi Ali, the prisoners were found to be positive after the mandatory testing of all incoming prisoners.
He said that since the outbreak of the coronavirus disease, the prison policy had changed, and required all new prisoners who were brought or sent to the various prisons to possess a negative covid 19 certificate before they were allowed into the prisons.
It was during one of these mandatory tests, that 3 out of 10 new prisoners who were brought to the station were identified as being positive for covid 19.
They were immediately quarantined and begun recieving treatment.
Two of the three have now been confirmed negative after three tests, and the remaining one is still responding well to treatment.
According to DCOP Ali, the current disinfection exercise will allay their fears of contracting the coronavirus in their line of duty, even as they tightened their safety protocols at the station.
He also revealed that his men have been relentless in ensuring that the public comply with the mask wearing protocols in the region.
According to him, anyone who was found without a mask was first arrested, educated and cautioned before being released.
This has ensured that many of residents in the region are fully complying with the mask wearing protocols, although a few people still go out without masks.
Nahimu Adams, the zonal Manager of Zoomlion for the North east region also indicated the company's commitment to ensuring that people are well educated, so that the disinfection exercise does not go in vain.
According to him, Zoomlion is not only disinfecting, but also encouraging leaders educate their followers to strictly comply with the safety protocols laid down by the ministry of health.
He is positive that together, covid 19 will be defeated.
The National disinfection exercise of all police stations is a government initiative through the ministry of local government and rural development, ministry of sanitation and the ministry of health in partnership with Zoomlion Ghana Limited.
Content created and supplied by: Buatsi (via Opera News )