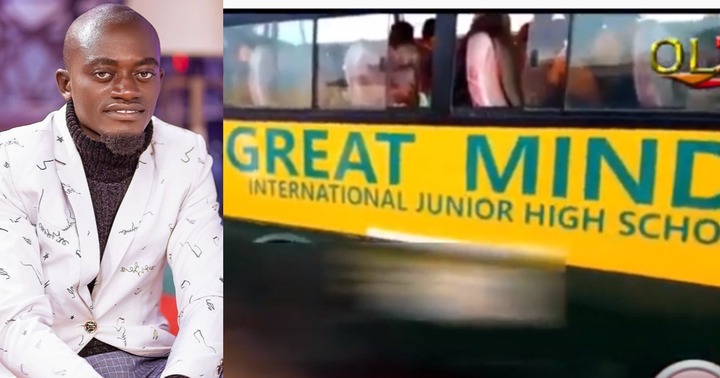 A five-year-old girl was knocked down on a bus from Kumawood actor Lil Win's Great Minds International School. The bus driver is said to have selected students in the Offinso community when the sad incident happened
- The five-year-old girl The Great Minds International School school bus owned by Kumawood actor Lil Win ran over and killed a five-year-old girl when she was not a student . He just stood on the driver's blind side and watched the other children get in. The incident reportedly took place on the morning of February 17, 2021 when the bus driver hit town to take students to school.
 According to an eyewitness, who spoke to Adom News, the driver had stopped for the students to board the bus.
The five-year-old girl who was not a student at the school stood near the bus to watch the other children board. The driver who didn't see the girl moved the car and it hit her and left her dead in the spot.
He allegedly got off t.He rode the bus and fled when he realized what had just happened.
 Meanwhile, Lil Win was on the news recently for firing colleague Kwaku Manu for claiming he was the one who discovered Lil Win and made him a star. 
Manu claimed that he was the one who made Lil Win popular and introduced him to the film industry, but pride will not allow Lil Win to admit it. so no one can claim to be behind his success .
 He also said that people who make comments like the ones Kwaku Manu made are just jealous and envious people. 
Content created and supplied by: News_world (via Opera News )