Man apprehended for keeping 15-year old woman in his house for 31 days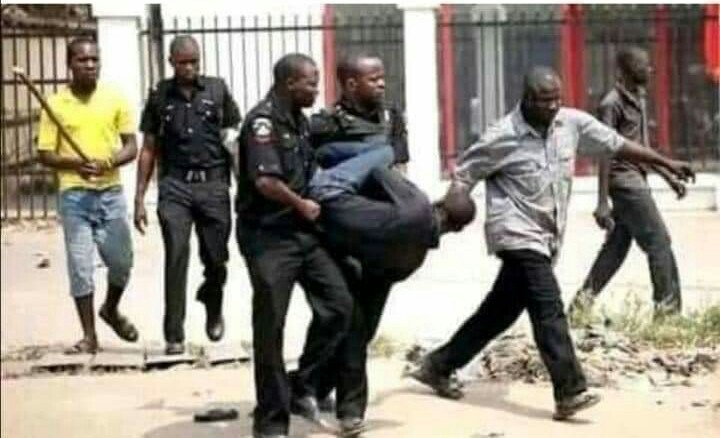 Whether she came there on her own or not, it is never appropriate for a man to keep someone in his room, failure to obey brings you troubles. The disobedience of Salifu Alhassan, has landed him into trouble this morning, as the Asankragua youth apprehended him for his ill behaviour. Salifu who is a commercial 207 bus driver in Asankragua, on the 4 of January, managed to turn Agnes Boahene against her parents. Agnes who is in her second year at one of the senior high schools in Koforidua, left home on 4 January 2021, with the hope of going to school. Agnes left home in the company of his mother, to the Asankragua bus stop, to pick a car to school. 
Salifu who drives a 207 bus, was already at the bus stop loading his car when Agnes and her mother arrived. Agnes' mother waited for the car to be full, and left the station before going back home. Not knowing, the car her daughter took, was the car which was going to bring her back to Asankragua. Salifu who managed to convince Agnes, brought her back to Asankragua, and made her live in his house. Agnes since the 4 of January 2021, has been living with Salifu in Asankragua, whiles her parents and everyone thought she was in school learning. Maame Esther, Agnes mother usually talked with her daughter on weekends, to make sure she was fine at school and how she was coping with her studies. 
Never did Maame Esther sense any deceive from her daughter's voice, because she trusted her to make the right decision. Agnes who comes from a deprived background, allowed herself to be lured by Salifu, into abandoning schooling. Maame Esther is a gari seller whiles Mr. Boahene, Agnes' father, is a farmer. Both parents have been going through thick and thin to make sure, their daughter doesn't end up like them. But Agnes has a different definition of what a happy life was, when she chose to live with Salifu, to the expense of her education. 
Maame Esther delivered goods to one of her clients in Koforidua, and decided to pass by her daughter's campus and give her some motherly love, and provisions. She went to the campus, and was told Agnes hasn't reported to school, since it's reopening. Agnes' phone wasn't going through anymore, and all efforts in getting her wasn't helping. Maame Esther broke the news to her husband, when she couldn't handle it again. Mr. Boahene is a strict father who doesn't play with the welfare of his children, and because of that, people sees him as an abusive father. Maame Esther had no where to go and no one to talk to, so he delivered the news of Agnes' missing, to her husband on Monday 1 February 2021.
Asankragua police together with the family of Agnes, made several searches from the Monday to Wednesday, and nothing came out. They made several announcement in Asankragua and near by towns, but no one seemed to know where Agnes was, until last night. Derrick Akyerekoh, who had a thing for Agnes, heard the news and couldn't stand doing anything. Derrick who once spoke to Agnes, was turned down by Agnes, after she saw him selling his mother's rice. Derrick reported the whereabouts of Agnes to his friends, when someone told him of Salifu's plan. Derrick together with his friends, stormed the house of Salifu this morning, demanding he releases Agnes. 
Salifu denied knowing Agnes and chased them out with machete, but Derrick who was certain Agnes was there because of the hint he got, never gave up and reported the news to the police. The police together with Derrick's friends visited Salifu, and they met with Agnes who was trying to escape from the house. Salifu was apprehended by Derrick's friends, before the police intervened. Maame Esther was grateful her daughter was found, but the father Mr. Boahene tried to release his temper on the poor woman, when the police intervened again. Salifu was still with the police giving his statement when this post was made. Maame Esther hopes to send Agnes to school on Monday 8 February, but the father Mr. Boahene thinks Salifu should be given Agnes to marry since both has been living for over a month. Salifu will be arranged before Asankragua district court on Monday 8 February for hearing. 
Content created and supplied by: RockyJDJones (via Opera News )