The Gningue family is not ready to forget that unfortunate day. It was around 5 am that the family was awakened by people who had come to dislodge them. "The house is going to be demolished" is the only answer that the residents of this said house have obtained after many questions about this intrusion into their home. Having refused to comply with their will, it did not take long for their things to end up on the streets.
Surely alerted by the sound of the Caterpillar and the collapse of the house, the neighbors all rushed outside. And if we refer to the latter, they have been on the streets since dawn. After 6 hours of demolition, the Caterpillar left. As a result, the house is completely destroyed, leaving no possibility of guessing the initial plan.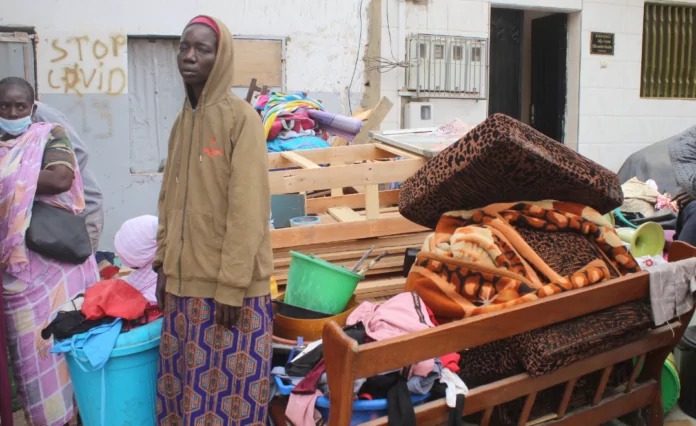 10:46 am, this Friday, February 5, 2021, the district of Fann Hock is packed with people. Just at the level of the cornice, more precisely towards the tunnel, stands a police car planted at the corner in order to slow down the demonstrations which resulted from this house demolition.
The whole neighborhood seems to have frozen in the same place; opposite the Gningue family house, the demolished house. Faces bruised by pain, others by lack of sleep, red eyes from crying, typical pajama clothing, this is the result of this long day that began since dawn for the inhabitants of this district. Mattresses, kitchen utensils, clothes, empty water bottles, all of this piled up in the street, in front of neighboring buildings, or even in some neighboring houses, it is the decor in which everything was held. many people, thus attending this eviction to their dismay.
Found in tears, puffy eyes, all red, her reaction led us to believe that it is a member of the family but it is not. Dressed in a brown veil dress with flower-shaped patterns, Adja Niang is a neighbor. His crying is justified for it's hard, it's really difficult, I don't know all this. I don't live in this house but we grew up together. Their mother came to this house very young. She married very young and had all of her children here, she lived there until her death. She never stopped struggling for her family and this is the case for their father.
Held with neighbors, Boubacar Gningue is the eldest son of the family. Dressed all in black in a leather jacket, a turtleneck sweater and black jeans, he returned to the origin of this dispute. "It was a brother of my father who sold the house. He was able to obtain an "original" paper by using a photocopy that my father had given him. The explanation he gave for giving him an "original" paper is that he lost the real one when we are the ones who hold the original paper of the house since part of the house belongs to my father who received it as a gift from his father. When my grandfather died, when the inheritance was divided, this same part belonging to my father was not included in the division because it no longer appeared in my grandfather's property. A situation that was accepted by all.
Sanou Gningue, the father's little sister, seems to be lost. In a gray sweater, accompanied by a wax loincloth, her hand raised to her cheek, isolated in front of the door of one of the neighboring buildings, staring into space, she expresses her dismay. "It is extremely hard what we are going through. I did not grow up in this house but I have lived there since the birth of my children. Even though this story has been going on for a long time, we are still shaken by the turn. There, we can only rely on God ". She launches this last sentence in a low voice before regaining her position.
This house story has claimed many lives. Indeed, this family has lived for several months, many tragic events. After they learned of the sale of their house, they had a confrontation with the police. During this confrontation with the police, tear gas bombs were thrown into the house, which not long ago caused the death of their mother, Boubacar Gningue confides. "They shelled our house with tear gas, my mother was scared that day and died."
Their father was jailed for over 11 months and was released less than a week ago. His imprisonment is also linked to this house story. According to Boubacar, he was accused of owing money in the sum of two million to the "new owner" of the house. Amount they had to pay so that it would be free. The saddest thing in this story, "this house sold and demolished today which in return belongs to us, we have not received anything, not even a franc".
Boubacar seems to be determined to take justice into his own hands because he has shouted loudly "that there is no justice in the country". "I went to see several authorities such as Pape Diop, Dakar Grand Serigne Abdoulaye Makhtar Diop, Jaraaf Youssou Ndoye. Several lawyers, including the late Khassim Touré, brought this case to defend us. I have solicited so many people who are committed to help me but it came to nothing. And there, they destroyed my house, killed my mother, imprisoned my father and I have to stay calm and do nothing. If Senegal does not rule on this affair, I will settle it myself and in my own way ".
While waiting for a solution to reach them, the Gningue family is still in shock and continues to remain hopeful about what will happen next.
Content created and supplied by: CyraxPen (via Opera News )