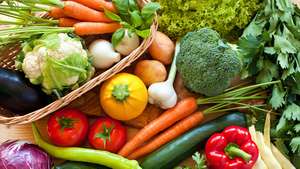 Vegetables provide essential vitamins, minerals and other nutrients, such as antioxidants to the body. They are one of the vital ingredients in the preparation of many Ghanaian dishes. Research has proven that those who consume a lot of vegetables have the lowest risk of contracting cancer and other cardiovascular diseases. The importance of the consumption of vegetables therefore, cannot be overemphasized.
A recent study conducted by the Food and Agriculture Organization, showed a steep decline of vegetable consumption among Ghanaians. The study revealed that daily vegetable consumption stood at 2.3 portions per day compared to the World Health Organization's recommendation of 5 portions per day.
This shortfall could be attributed to the manner in which vegetables are cultivated in our cities. In Accra for example, water is a constraint because the cost of pipe-borne water is expensive and not affordable to farmers. 
It is a common feature to find gutters which are meant for water drainage filled with stinking waste water and mostly choked with solid materials. All these flow into big drains, thereby causing severe pollution.
Surprisingly, vegetable farming mainly occurs along these drains. The use of these drains polluted with faecal matter for irrigation results in the contamination of the vegetables with pathogens which pose a serious health risk to consumers, such as cholera and food poisoning.
From the Dzorwulu ECG Substation areas to Airport and the Osu Castle Link Road, the practice of using stinking gutter water for irrigation of vegetables has become a widespread practice.
Officials of the Metro- Health Directorate of the Accra Metropolitan Authority (AMA) should go round and advise these vegetable farmers to desist from that practice. They must supervise and monitor the production process to ensure that the quality of water used to irrigate the vegetables is not contaminated. They must also embark on campaigns to promote school and backyard garden.
AMA must wake up to its responsibility.
Content created and supplied by: NativeWatch360.News (via Opera News )