One dead at Afful Nkwanta, Kumasi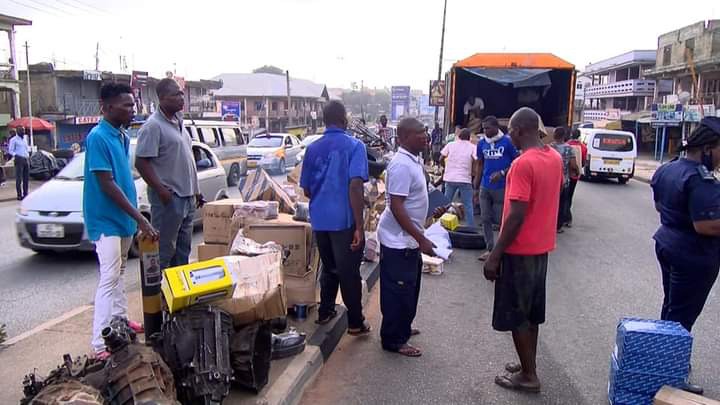 A driver has lost his life this morning after he lost the brakes to his container truck at Afful Nkwanta, Kumasi. Afful Nkwanta which is one of the busy suburb towns within Kumasi, is a town known for its bees and honey making. They are the kingmakers of original honey from homegrown bees. It was in the '90s when traders were complaining of a lack of honey because of the persistent market for it. Residents of Afful Nkwanta who are known to be brave men from the north-west, went to the forest and were able to bring home live bees, which they cultured and nurtured into making homegrown honey. It has been one of their trading patterns since the '90s where traders go there to order original bees without going to the farm. 
The driver of the container truck which was loaded with goods was to deliver the goods at Afful Nkwanta and reload pure honey back for his journey when he died few miles to his final loading warehouse. The driver Iddrisu, who was coming from the south was to deliver the goods and load honey back for his journey to the south. He was few miles to the Kassum warehouse at Afful ankwanta, where he was going to do the offloading of the goods he was carrying when the accident occurred. Just before the police station, was where Iddrisu saw a clear chance to overtake a Smith truck he's following, who was going on slow for him on the road.
Iddrisu did not see that an oncoming car was approaching before he made that overtaken. The truck he was following blocked his way to see what was ahead and that did not scare him to avoid the overtaking, and went ahead making it. Immediately he got to the incoming traffic road, was when he saw an oncoming car which was on tough speed. Iddrisu knew it was a bad decision for him to make the overtaking and tried resigning his decision by slowing down, so he can go back been behind the long vehicle car he has been following. He tried using his brakes to slow down, but the brakes were not responding. The brakes failed that instant he tried making the overtaking, and there was nothing he could except getting onto the pedestrian road, which was filled with pedestrians and heavy load.
He tried saving the pedestrians on the paved road and crashed into a packed charcoal which was loaded on the roadside. Iddrisu who was not in seat belts, fell from the driver's seat when the car crashed the packed charcoal which was situated on the roadside. He died on the spot, without responding to stimuli. The truck attendant who was driving with Iddrisu sustained serious injuries to the head and chest when he crashed the dashboard from his passenger seat. He was taken to the KATH emergency centre where he is receiving emergency treatments.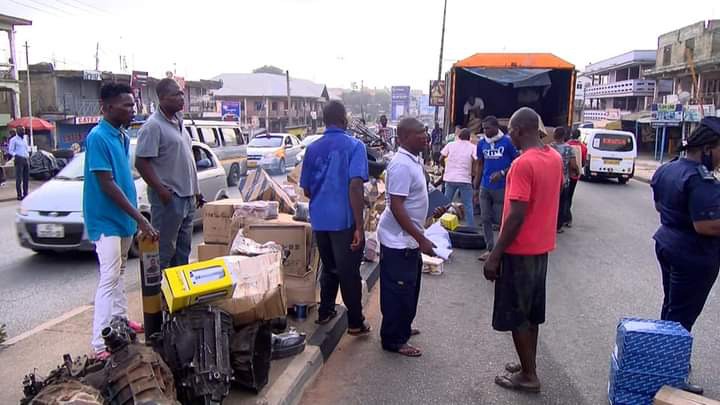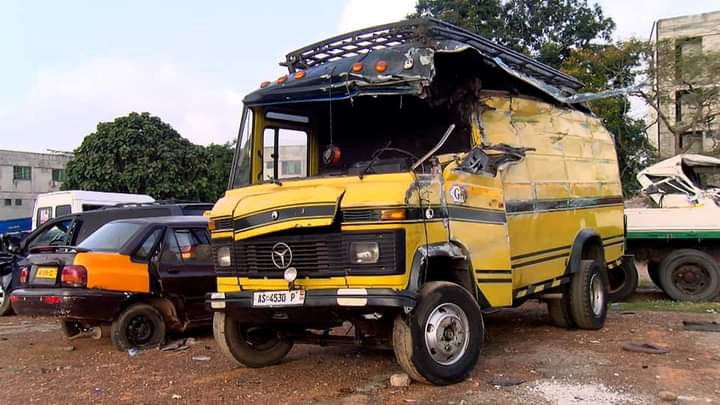 Content created and supplied by: RockyJDJones (via Opera News )