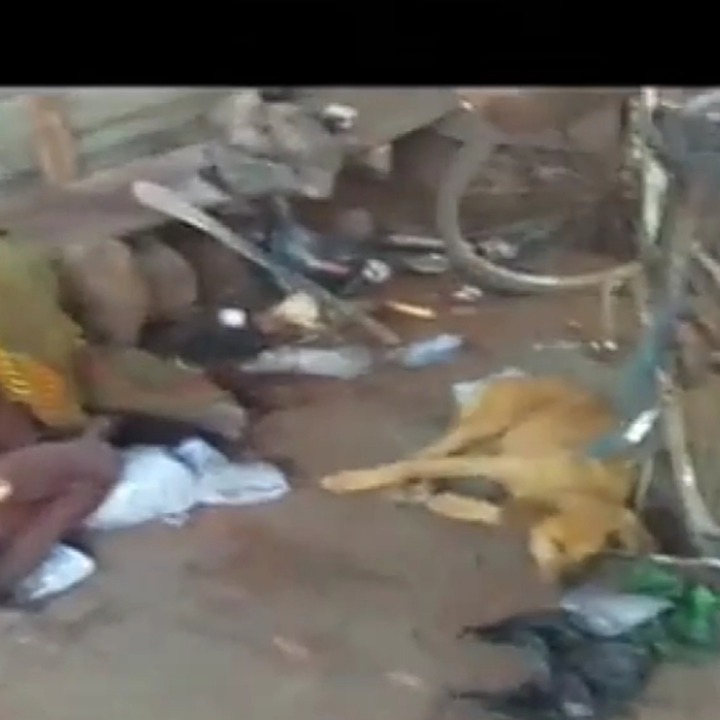 Wonder they say shall never ceases, a dog has thrown the henchmen of Atebubu township into a state of shock and confusion as it shows dedications and loyalty after her master meets his untimely death for taking excessive calabash of Pito.
The incident happened this today, Thursday February 11 2021 at Atebubu in the Atebubu-Amantin District of the Bono East Region, where 58-year-old man was found dead at the Atebubu market square, while his dog was also spotted sleeping next to the corpse with tears rolling down her cheeks.
According to an eyewitness Big Asare of Atoobu FM, the deceased is a local farmer and usually supplies firewood to pito (local beer) sellers in exchange of the traditional alcoholic beverage, yesterday wasn't an exceptional.
After the man returned from the bush in the late hours of yesterday with some firewood, straightaway, he moved to the market square and excessively took more of the cereal food drink which landed him drunk.
Everybody at the market had closed, left to their various homes leaving the man with his dog, cutlass and bicycle, nobody knows whether his drink was poisoned, only to found his lifeless body on the street while water was flowing through his nostrils and mouth.
Sadly not one person sells pito at the market, about 6 other persons are into the business as they failed to show up today moment the news breaks.
Basically pito is a type of beer that is prepared from carbohydrate-rich cereal crops such as fermented millet, or sorghum, guinea corn, or maize. This cereal food drink is a traditional alcoholic beverage that is consumed mostly by the populace in Northern Ghana and other parts of West Africa. It is made by small producers, and is typically served in a calabash outside the producer's home where benches are sometimes provided, which can be served warm or cold.
Strangely his dog was spotted sleeping besides the corpse, till the police came and picked the body to the morgue at Atebubu Government Hospital, pending further investigations.
Content created and supplied by: Wolibismark (via Opera News )