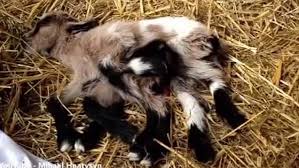 A goat delivered kid with 8 legs today at Jinjinabani in the Nanumba North Municipal Assembly of the northern region. 
The owner of the goat Mr Wajah, according to him was at the farm when he got a call that his goat was about dying after it's several efforts to put to birth proved futile. He then rushed home to find the goat lying helpless. 
Mr. Wajah then called on a Fulani herdsman who came to rescue the goat. The timely intervention of the man helped the goat to deliver the 8 legged kid which was dead in utero.
Even though this could have some scientific proves, it is the first time ever the residents of the community are witnessing such a mysterious event as some people described the situation as an abomination and some think it is some sort of calamity.
Many of the people who heard about the incident rushed to the scene to witness it for themselves whiles others and their families have since deserted the area. 
Content created and supplied by: Ngaribignanba (via Opera News )