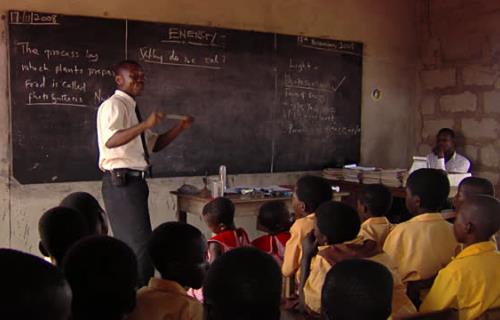 It was an open secret that I didn't want to do my National Service anywhere in Accra. After PRESEC and UG, I wanted to have a taste of either Western, Eastern or Central Regions and so I chose them as the preferred destinations to serve my nation after University. I didn't want to have anything to do with reading and writing after spending the first 2.1 decades of my life in school. I kept telling April Lee and the rest that I wasn't even going to read the writings on a sign board if I came across one after University.
Fast forward to August 2012 when the postings were released and it ended in tears for the son of man. I had chopped 'L' on both fronts, like Lampard did at the hands of Manchester United. I wasn't given any of the 3 regions I chose and on top of that I had been posted to a school of all places. For someone who was running away from reading, you can imagine the pain I was in. Banvim Presby Primary School in the Tamale South Constituency was where I had been posted to. Of course I was going to strain every nerve to change my posting. I spent more than a month in this pursuit only to be fed-up at the end. September ended and the story was still same. 
On October 1, after my dad had psyched me up so much in a manner only akin to Mourinho's before his teams' games, I decided to go to Tamale. We had spoken to one of his friends on the eve of my trip and he had to at least take care of me temporarily till I got settled. I left Accra with a VVIP evening bus so I'd get there in the morning to be able to sort myself out. I slept for larger parts of the journey which never seemed to end. We got to the last stop by 4:00 am on 2nd October, 2012. I called my dad's friend twice but he didn't pick up. I waited a while to see if he'd return the calls but he never did. Later, his phone was even off. I had to take my destiny into my own hands. I stopped a random taxi and asked him to take me to the nearest guest house. ''Dɛsiba'', he greeted expecting me to respond ''nnaa'' but when I told him I was a stranger, he realised he had to look sharp. It took us about 20 minutes and I paid Gh₵ 20. After I got to know the place later, I realised the man drove me round in circles just to extort me.
After I had freshened up, I got another taxi to the national service secretariat. Things were quite smooth there and I was done in no time. I got into a conversation with a certain Mr. Illiasu who happened to be in his late 40s. We spoke at length on a myriad of issues and we seemed to have struck an effortless bond. He even drove me to my school on his motorbike. This was after he had taken me to an eatery where I broke my Tuo Zaafi (TZ) virginity. After I had been stood up by someone my father knew, a total stranger was giving me a VIP treatment. Sometimes, our help comes from the least expected places indeed.
I got to the school and was shown the Headmaster's office. After some brief exchanges, he walked me to class 4 and introduced me to the class teacher and told him I would be assisting him. I was asked to teach English & ICT. I was later taken to one house in Banvim and was told I could stay there during my time at the school. I respectfully declined the offer because the place had no lights. I left and headed back to my guest house. I called my father and narrated my ordeal to him. His friend whose phone had been off the whole day miraculously called me back almost immediately and had more excuses than a teenager who has been asked to explain how she got pregnant. My mind was made up; I wasn't going to spend more than a night in this man's house because the writings were quite clear on the wall. That first night at Kalpohin was my first and only night at his place.
On Wednesday 3rd October, I started my new life. English Language was the first lesson for the day and I was excited to get started. Midway into the lesson, Salamatu entered and greeted. I responded and asked her why she was late. Her response was "Masa, my house is tall" literally meaning, my house is far. From that moment, I knew my work was cut out for me. I had to excuse myself to go and have a good laugh. I could have died of 'internal bleeding' if I didn't release that.
After I was done teaching for the day, I sought permission from my Headmaster to go look for a place to stay. I called my friend Mr. Illiasu who willingly came to pick me up for the exercise. I needed a place at either Lamashegu or Kpakpayili since they were both within touching distance of Banvim. We got a place way quicker than I expected and the amount to be paid as rent was even more surprising; a paltry Gh₵10 per month. That was even because the place had water and electricity. 
My landlord had stayed in Accra for over 10 years and could speak Twi very well. He told me to feel at home and enjoy my new place. I paid for a year and after he had handed over the keys to me, I told him I was going to get my stuff. I quickly called my dad's friend that I had gotten a place to stay. Like a Libya 'borga', I only had my suitcase, my student mattress and my laptop bag so relocating wasn't that stressful. I thanked him and left for my new place. That was my last time of speaking to or seeing him. As tradition demanded, I called my parents in the evening to bring them up to speed on events in the day. They sent me money to pay for the rent and take care of other matters. WhatsApp had just come up and not many friends were on it yet. I sought solace in that app to alleviate a chunk of the tedium. Aside my laptop, it was all I had to entertain me.
The next morning, my landlord came around and introduced me to his wives and children. He went ahead to say that I could ask Ajara to sweep my room for me anytime I wanted. A whole SHS 1 girl should be sweeping my room for me? The room was not too big. I clearly wasn't going to fall into this disguised trap. Mebɛ sɔɔ gya, mma mmɛhwɛ nkwan mu… to wit, I only came to fetch fire and not to check the contents of the soup. The wife was to give me food everyday too but I had to find a way to swerve that as well. I expressed my appreciation and said the children could also come around before 6pm everyday so I help them with studies and assignments. After all, one good turn deserves another.
Among the many challenges that confronted me, lack of infrastructure and failure of most of my students to express themselves in English Language were the ones that bothered me the most. How was I going to be able to interact with these kids when I couldn't speak Dagbani? How were they going to talk to me and ask questions too? I had to make some sacrifices and meet these kids halfway, at least. I decided to learn the Dagbani language, in my quest to be able to speak to them when I had to and I challenged them to learn English Language with the same verve. Sulemana Gandi who was a colleague teacher was immense in this exercise. Anytime I needed to know how a certain expression is said in Dagbani, he was my go-to guy. In less than a week, I had mastered the pleasantries quite effortlessly. I was picking up a few expressions too. I will intentionally engage my landlord in Dagbani just so he'd know I meant business. He was so impressed that he started calling me "Dagban Doo" which means ''Dagbani Boy''. The koko seller near Asiya Shakun's clinic was even taken aback by the quick turn of events. It didn't have to take us close to 10 minutes to figure out what exactly I wanted again. My students were equally picking up, albeit a chunk of them were still struggling. The progress was palpable and the feeling, indescribable. 
My Sony Vaio Laptop was still fresh as it was just bought in my final year at University. I had to take it to school during ICT lessons to bring the children within touching distance of reality. These were very emotional moments that almost always brought me to tears. The ecstasy with which the students used the machine was priceless. I usually had sweets and coins on me to reinforce positive behavior. The students were clearly tagging along. Anytime the class teacher was not around, I quickly dashed in and took them through some English and ICT lessons. Sometimes, I taught them other subjects too. 
Together with Moses, Theophilus and Mark Asiedu who were also National Service personnel, we wanted to leave lasting memories in our transient stay at Banvim Presby Primary & JHS. We volunteered to teach the JHS 3 students after school was over. This was our own small way of trying to improve their B.E.C.E results. It was not easy from the scratch but we did our best and to God be the glory, some of the candidates made us proud. I recount many stories of parents coming to my place to give me presents because of what the kids had told them. Ajara and co. kept bugging me with assignments on a daily basis too. Who are you to say the chief of Zongo has farted, when TZ is your favorite? I had to fulfill my part of the bargain.
I am a member of Assemblies of God (A/G) and needed to find a place to worship too. On my way back home from the koko seller's place on my first Friday, I met Adam Gloria who was in an A/G polo shirt. I greeted her and asked if she was a member of A/G. She responded in the affirmative and so I asked her for directions to the place. My new church was Liberty Centre A/G Church, Kakpayili where I met Elijah Enock Dramani, Solomon Dawuda, Abukari David among other great men. My Head Pastor was Rev. Stephen Dramani. I had initially wanted to join the choir but I had to switch to Sunday School Department because most of the songs were in Dagbani and it was going to take me a while to adjust.
I had to look for a place to be watching football games on DSTV as well. It was one missing piece in the jigsaw. I love football to a fault. I discovered one joint just across the street. Abdul-Rahim Abdulai and the other guys made the place fun. I was almost set to enjoy life in my new surroundings. All this while, I had not started cooking. The 'athlete' in my stomach occasionally reared its ugly head and I had my fair share of diarrhea. I had had enough and decided to roll back my culinary skills. I needed to buy rice cooker, burner, cooking utensils, etc. Melcom was the one-stop shop to get all these and more. It was just around that period that the Achimota branch had caved in. I got to the place and realized the building didn't look too strong from afar. I honestly contemplated going back but went ahead to buy the items from there. I bought a 14-inch color TV as well. The 2012 general election was on the horizon so I needed to update myself. 
I was fairly comfortable at this stage and had gotten used to the place. I enjoyed school and church services as much as I did with watching football. I learnt how to ride a motorbike during this period. "Mapuka", as they are referred to, are very common in Tamale and its environs. Aside day –old babies, virtually everyone knows how to ride them.
I came home during every vacation. On my return to Tamale after first term, God miraculously saved me from a fatal accident. I got to the bus terminal quite late and the bus I had a ticket for had already left. I had to join another bus only to get to Buipe to realize the first car had been involved in a very fatal accident. More than 20 passengers lost their lives. The night buses always stopped at Kintampo so we could move together with police escort. This was done to combat the various armed-robbery cases on that stretch. Officially, Kintampo has the best bananas in the world. I always left Accra chomping at the bit to re-unite with my students. They had become an integral part of my life. Biscuits, toffees and other confectionaries had become a present feature in my groceries. 
My room was very dusty anytime I returned from Accra, quite understandably. I spent a lot of time cleaning up the place on every such occasion. One fateful Tuesday afternoon as I was writing something on the board, I heard the students screaming. I didn't know what was going on only to realize later that blood was oozing from my nostrils. The harmattan was clearly making mincemeat of me. The headmaster asked me take the week off. I was sent to the nearby clinic and Olive Dartey and Asiya Shakun took very good care of me. Before my headmaster could say anything, I was in school the next day. He only smiled and shook his head when he saw me. I'd rather be with my kids who almost always left me rolling in the aisles than be stuck in a rut at home. I was fine, after all. Marking of examination papers gave me more joy than Michael Donkor's winning penalty in the 2004 CAF Confederations Cup final did. 
Days ran quickly into weeks, weeks into months and in no time, national service was over. My skin looked darker than the steering wheel of a charcoal truck. The NSS teachers got the school a sign board as we realized it didn't have any. My kids contributed and bought me a guinea fowl. The school gave us smocks as well. My church gave me a smock too. Ajara's father who doubled as my landlord gave me about 10 well-dressed guinea fowls and presents. I gave out my TV, carpet and other belongings too. A very eventful moment in my life had ground to a halt.
Among other things, this period taught me patience, gratitude and perseverance. Even though I have not returned there since service ended in 2013, I plan to do so very soon. Tamale is blessed with a lot of nice persons.
Content created and supplied by: pepraheric (via Opera News )