Family to face court for burying 72-year old woman without a coffin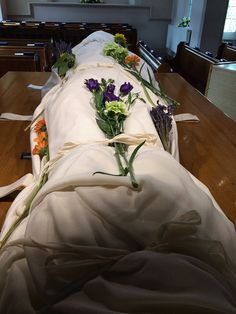 Asona family of Akwidaa in the Takoradi city, will face the law tomorrow morning, for burying Madam Ntisere without a coffin. Madam Ntisere is a native of Akwidaa town, and has been living there since childhood. She was a plantain wholesaler, who never went out of Akwidaa, not even for 48hours. She spent all her time and days in Akwidaa, before her death on, 3 January 2021. Madam Ntisere was not lucky after marriage, and lost her husband few days after giving birth to triplets. She never cared to marry again, and remained single until her demise. Madam Ntisere died peacefully in her sleep, when she went to bed on the night of, 2 January 2021.
She was someone whiles alive, hated mortuary. She allegedly told her elder sister whiles alive that, when she should die ahead of her, she should make sure she is buried the same day. She said that out of fear and pity, because of the cold of mortuary fridges. Unfortunately, the sister died before her, and Madam Ntisere never told anyone again about her death wish. Doreen who gave the Asona family ultimatum, not to bury the woman without a coffin, also stressed on how how Madam Ntisere never like fridge. Doreen from her account, was briefed by her mother, the elder sister of Madam Ntisere. Doreen forced the Asona family of Akwidaa, not to put Madam Ntisere in the mortuary, and to bury her without a coffin. The Asona abusuapanin Agya Koomboa, disagreed with Doreen on the mortuary part, but agreed with her on the no coffin burial part.
Agya Koomboa made arguments that, if Madam Ntisere never preferred mortuary, she wouldn't have suggested to him to place her sister in the mortuary. It is alleged that, when Doreen's mother died, it was Madam Ntisere who forced Agya Koomboa to put her into the mortuary. So there was no way, Madam Ntisere will prefer her sister to be placed in a mortuary, whiles she disliked it. Agya Koomboa agreed with Doreen on the coffin part because, he was not there when Doreen heard that story from her mother. Doreen who was the only child of her mother Madam Fujah, was firm about what her mother told her about Madam Ntisere, but Agya Koomboa refuted it and placed Madam Ntisere in the mortuary on January 3.
The children of Madam Ntisere, who are triplets, disagreed on both allegations from Doreen. They were with the aim that, if their mother dislike mortuary and coffin, she would have told them whiles she was live. Agya Koomboa who is the Asona abusuapanin, took matters into his own hands, and buried Madam Ntisere without a coffin yesterday. The children of Madam Ntisere, who were against the no coffin burial, made a complaint with the Akwidaa police who have prepared a docket for court tomorrow. The children of Madam Ntisere, wants Agya Koomboa jailed together with Doreen, for disrespecting their mother's memories. They are also seeking the Akwidaa district court, to grant them the power to delete Doreen's name from their mother's inheritance, because of her disrespect towards Madam Ntisere's memories. 
Doreen who is the daughter of Madam Fuja, Madam Ntisere's elder sister, is entitled to 25% of Madam Ntisere's properties. Madam Fuja and Madam Ntisere made a joint will as sisters, which gives all their farm lands to their children. Doreen didn't get anything when her mother died because, of the joint will. She is entitled to 25%, whiles the three children of Madam Ntisere, is also entitled to 25% each. The children of Madam Ntisere is 100% sure, Doreen came up with such fabrications, because she had no money to contribute towards the burial of Madam Ntisere. Within the Akans, it is the responsibilities of children, to bury their mother when they dies. And because of that, Doreen who is broke didn't have money to contribute, so she came up with those lies. Madam Ntisere was buried yesterday without coffin at Akwidaa in Takoradi, Western Region 
Content created and supplied by: RockyJDJones (via Opera News )