Okyereko Junction: 3 Killed In Road Accident On Cape Coast-Accra Highway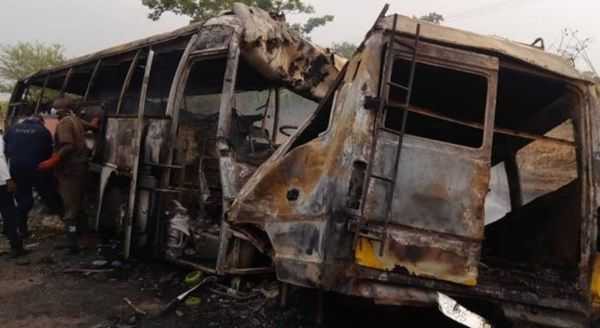 Three individuals passed on in a street mishap which happened at Gomoa Okyereko Junction on the Accra-Cape Coast expressway Friday night. 
The three, all far off nationals were inhabitants of a Toyota Land cruiser Prado with enrollment number GN 3966-17 which was making a trip from Cape Coast to Accra. 
The other vehicle associated with the mishap was a completely stacked truck with enlistment number GN 751-20 which was from Accra towards Cape Coast. 
As per onlookers, the truck veered off its path and impacted head-on with the Prado. 
The mishap happened a couple of meters from the primary Okyereko Bridge around 5pm. 
The Prado, as indicated by the observers summersaulted a few times prior to arriving on the opposite side of its path. 
The perished, a male who was the driver and two females, whose characters and ethnicities are yet to be found out kicked the bucket on the spot. 
Their remaining parts have been stored at the funeral home of the Trauma and Specialist Hospital in Winneba. 
The driver of the truck along with his mate whose personalities are not promptly accessible likewise supported wounds and accepting treatment at same medical clinic in Winneba. 
The station official at the Ghana National Fire Service (GNFS) in Winneba, Mr. Hackman Afful, told the media with help from some work force of the Ghana Police Service, they figured out how to get the street to guarantee free stream free from traffic on that stretch of the street. 
He noticed that starter data assembled from observers demonstrated that when the truck acknowledged it had built up a flaw, the driver began advertising himself to avert vehicles drawing closer from the other way yet the driver of the Prado didn't see it which brought about the head on crash.
Content created and supplied by: TechGod (via Opera News )