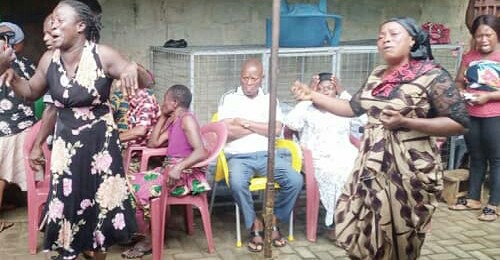 Kwaku Amoako a 26 year old boy from Akim Adeamra was found dead in a gutter this morning. The family of Kwaku Amoako has reported the case to the police at Akim Swedru police station and the body has been sent to mortuary at Akim Oda Government hospital.
As at now, the family have not head anything good from their brother's death. There have been speculation all over that he was fighting with a friend called Kofi Sammy yesterday.
According to the father, he said he was with Amoako yesterday and he said, he is going to collect his money from a friend and since then I haven't set my eyes him again. The mother was finding it difficult to talk but now, she is in good state.
The mother said, Amoako is the only son and only child they have. He just completed Kintampo College Of Health. He offered Physician Assistant.
The suddenly death of Amoako has scared people around that area and it's hardly to find people passing.
According to the police, they think Amoako's friend knows something about his friends deaths so he has arrested for further investigations.
According to the suspect, he agreed that there was a misunderstanding between him and his friend yesterday. He said, he was owing his friend GHC 100 so he came to the house yesterday for his money and I told him I have nothing on me so he should go and come tomorrow for the money. He said Amoako got angry and they started exchanging words and he left. I didn't hear from him again till this morning he was found dead in a a gutter.
According to the police, they said the complaint was not convincing so he should be remanded for further investigations.
Thanks for reading
Please make sure you like and comments on it.
Don't forget to follow me for more details. Thanks
Content created and supplied by: Yawkyeinews (via Opera News )