The menace of road accidents is that, sometimes it doesn't come from either the fault of the driver nor the road but from the carelessness of someone else. Whiles the government and security agencies through the various municipal and district assemblies have been preaching for animals to be caged and feed in their various cages, there are some unscrupulous individuals who thinks caging their animals is an abuse to them. And in disobedience to the words of government and the security services, they allow the animals to roam about the streets and roads destroying everything they come into contact with. 
A brand new Nissan salon car has been damaged beyond repairs whiles the driver fights for his life after a cow mysteriously appeared from nowhere crashing the car on the drivers mirror. The driver who was identified as Emmanuel Armah per id details in his wallets is believed to have been going 50km/h on the Kumasi Sunyani highway, few metres away from the Tanoso township. Tanoso is one of the sub towns of the Kumasi Metropolis and it's famous for the Yaa Asantewaa Secondary School which was named after the energetic, fearless and brave Nana Yaa Asantewaa of Ejisu. 
It is the main road out of Kumasi Metropolitan if one is heading to the north either Sunyani, Goaso, and the northern regions. Emmanuel was believed to be going to Bechem, a town near Sunyani and was almost at the CEPS Customs Excise and Preventive Service checkpoint when a cow came from nowhere and crashed with him. The animal somersaulted and entered the drivers mirror directly hitting the driver in the head and collapsing him. 
Eye witness Jeremiah who was riding with his brother Emmanuel said, he was talking on the phone whiles his brother was driving when all of a sudden the animal came from nowhere to attack them on the road. This caused Emmanuel to lose control after the hit because the animal crashed him directly on the head sending him to unconscious state. Jeremiah then forced the car to stop by pulling the hand breaks since the legs of the driver was still on the accelerating pedals. 
No one has been confirmed dead as of now. There were two people in the car, the driver Emmanuel and his brother Jeremiah who was on the front passenger seat. Incoming traffic came to their aid and took Emmanuel who suffered serious injuries to the Komfo Anokye Teaching Hospital emergency center at Kumasi for immediate treatment. Duty officers at the CEPS checkpoint was alerted to the scene and they have been able to move the vehicle off the road for easy access for drivers.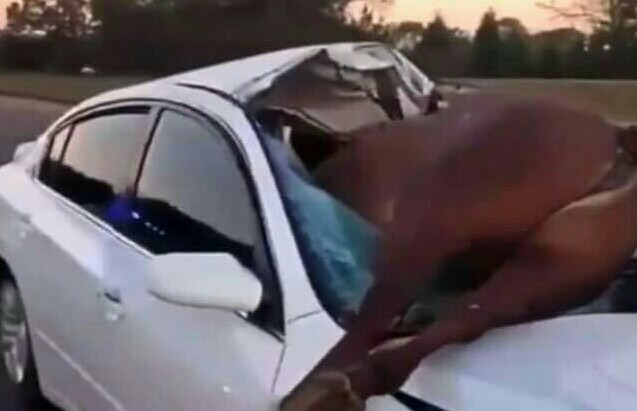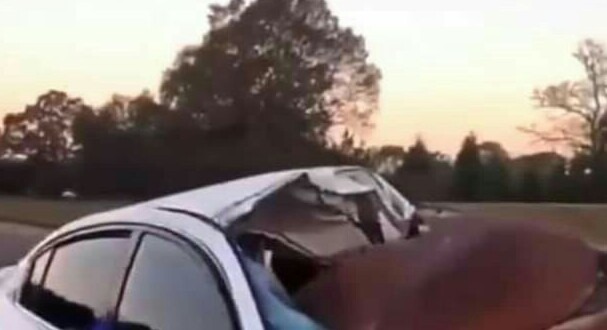 Content created and supplied by: RockyJDJones (via Opera News )