Since commencement of tricycle "Pragya" in Dormaa Municipallity as commercial transportation vehicles, the Municipal Police Command has not been satisfied with their operation.
Due to that, the police had briefed the Municipality of the dangers that those vehicles could pose and recently, the police gave out the number of cases they have gotten from the tricycles so far.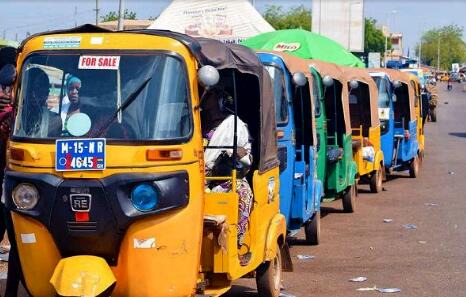 Indeed, according to the police report, some of the cases are not just mere accidents but fatal to the level of losing lives and most of the victims are children who are passer-by or pedestrians.
This briefing from the police has influenced many people in the Manucipality to fall on the Municipal Police Command to intensify their regulations on the movement of the tricycles (pragya) in the various communities of the Municipality.
According to the concern groups who are seeking for directives and re-enforcement by the police, they have seen most tricyclists who are believed to be under age to use commercial vehicles.
Again, they have also witnessed how the cyclists speed up on street while carrying passengers.
Meanwhile, the cyclists maintenance duties are highly unrecognized.
The groups also suspect that, majority of the cyclists do not have driving or riding permit or licence.
And more to the points, they witness that, majority of the tricycle vehicles are not dully registered and all these pose threat to their lives.
To attest to the death cases the police report indicates, the pressure groups are also complaining about how children cross road often and often without Zebra Crossing Signs, Zones or indicators in the Municipality. 
They then think these factors could inflate more deaths if the police fail to regulate the movement of the tricycle vehicles and even the entire road-using vehicles.
Follow, Like, Comment And Share
Content created and supplied by: Sirrkollins (via Opera News )