71-year old man to be buried in golden casket after two years at the mortuary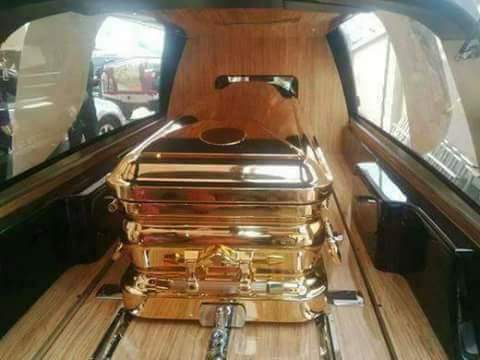 The life of the late Evans Okyere Temiku, will be honoured this Friday 5 February, when he is been laid in state at his family house in Ada Foah. Opanin Evans, EOT as his children and families addressed him, was a man of peace who sort the welfare of his children and family members. He wasn't just the star among the Oyoko family of Ada Foah, but a golden star in the family. Mr. EOT was not given a formal education, but he made sure all his children and all his nieces and cousins, were given the best of education. 
EOT after hard talks with his mother the late Eno Asor, left Ada Foah for Nsawam, where he lived most of his life. He was able to secure a parcel of land, after working for the land owner for sixteen years. EOT who was not born with a silver spoon, started growing all kinds of food crops on the land, that was donated to him for his good service by his land owner. He became the best farmer in Nsawam at 2001, and won lots of prizes and awards. 
EOT found education to be a need, and in so doing, took the necessary steps in educating all his children. He sold all his lands with the exception of one, to make sure all three of his children and one child from all his four sisters, were educated. In total, seven children were given the same preferential treatment from EOT. Mr. EOT in 1996, took all seven children to the US to fight for themselves, with all the money he got from selling of his lands. Many stood against the move of him, sending all the seven children abroad, but he never gave up and stood for it. 
He mad sure all seven of the children, came and pick one child each from the family, but stubbornness from some couldn't see that dream happening. He never gave up, and stressed all his three children to come pick one child from each family member, of the Oyoko family in Ada. Within twenty years, the Oyoko family of Ada Foah, had over forty family members in US all because of Mr. EOT. He had nothing, and he wasn't rich, but he made sure every family member was taken care of. 
Mr. EOT in January 2018, complained about joint pains which was stopping him from moving both his legs, family thought it was old age and gave him herbals to treat. He died the next day, which was 11 January 2018. His death brought sadness and sorrow to the family, as his kind was the only one in the family. Someone who wasn't born rich, but used all he had to get over forty family members to US whiles he still stayed in Ghana, was someone to be celebrated said the family of Ada Foah.
Family decide to bury him in September 2018, but not all the Forty-five family members living and working in the US, had papers so they rescheduled the burial to 2019. Hoping by then, all those he sent abroad would have had their papers, to come for his burial. Family refused to bury him, despite three people dying after him. Three family members from the Oyoko family in Ada Foah died from September 2018 to June 2020, and all three was buried, but Mr. EOT who died on 11 January 2018 was still in the mortuary. 
His good deeds, was the cause of the delay in his burial. All Forty-five members of the Ada Foah Oyoko family who are living in the US, arrived in Ghana from November 2020 to January 2021, just for the burial of their hero Mr. EOT. Mr. EOT will be laid in state on the dawn of Saturday 6 February 2021, at his renovated family house at Ada Foah, near the market square. He will be driven to the Presbyterian Church at 9am the same day for burial service, in a golden casket specially made for him. 
The family decided to bury him in a golden plated casket just to show the people of Ada, the pure heart of gold Mr. EOT had, before his death.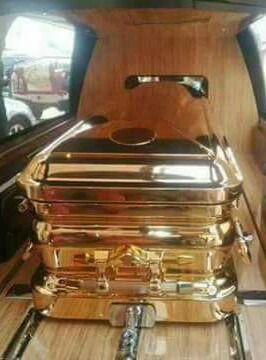 Content created and supplied by: RockyJDJones (via Opera News )