26-year old woman in trouble for stabbing 29-year old man at Akuse 
Ama Bredu has found herself in trouble, after stabbing Kwaku Paul at Akuse. Ama who was not interested in continuing her education again, because of lack of funds, met Kwaku Paul who gave her a hand in seeing the realization of her dreams. Ama became a home woman, teaching in private schools with her secondary school certificate, after graduating from SS. She had dreams of going further, but there was nobody to help her succeed. Her parents are not the rich type, and Ama could not force her ideals on her parents, and ended up staying at home until she met Kawku Paul. 
Kwaku Paul gave all the help Ama Bredu needed, from online application fees to admissions fees to three years of teacher training expenses. Kwaku took upon himself, and helped Ama throughout all these years, for her to buy an application, fill it, submit it, pay admission fees, all her three years tuition fees and personal expenses, until her graduation from teacher training college of education. Ama was posted to Akuse, to begin her National Service after graduating from college last year. 
It was Kwaku Paul who again took it upon himself to look for a new place at Akuse, pay for the rent and help her settled in the town for her service job. Ama started working at one of the primary schools at Akuse in January, and has since been teaching there. Kwaku went to Akuse to visit Ama, after three months of not seeing her, and met his unfortunate accident with her. Kwaku Paul arrived in Akuse on Friday, and went to check on his friends at a near by city on the same day. He promised to return on Sunday morning, and he did. Kwaku wanted to spend the night with Ama, then live on the Monday morning, but Ama didn't want him there. 
Ama Bredu instructed Kwaku to live her room and go back to where he came from, because she wanted to prepare for work the next day, which was Monday. Kwaku made his intentions known to Ama of spending the night with her, but she refused it. Kwaku Paul was on Ama's bed, one of the things he got personally for her, and Ama instructed him on top of her voice to leave her apartment or she will kill her. Kwaku thought it was a joke, when Ama took a kitchen knife. 
He tossed her and pulled her to the bed, to have a taste of her engine, when Ama rose from the bed and gave him a last warning. Kwaku Paul turned his face from Ama and wanted to sleep, after she refused to give him the taste he was looking for. He was on the bed when Ama raised the knife from his back, stabbed him five times and left him to die. Ama after getting out of the room, made a small cut on herself, at her porch before going out to the main veranda of the house. Neighbours saw Kwaku's blood on Ama and asked why, and she briefed them of Kwaku trying to take her life. 
Neighbours were about taking her to the hospital, when Eno Adwoane shouted on top of her lost feminine voice, to ask for two sides before rushing the woman out. They asked where Kwaku was, the one who wanted to kill her, and Ama pointed to the direction of her room. The found Kwaku in a pool of his own blood, almost dead. He had already collapsed, after loosing tons of blood. They rushed him to the Akuse Government Hospital, where doctors operated on him for more than twenty hours, before they were able to save his life. Ama is still in police custody, helping with investigations.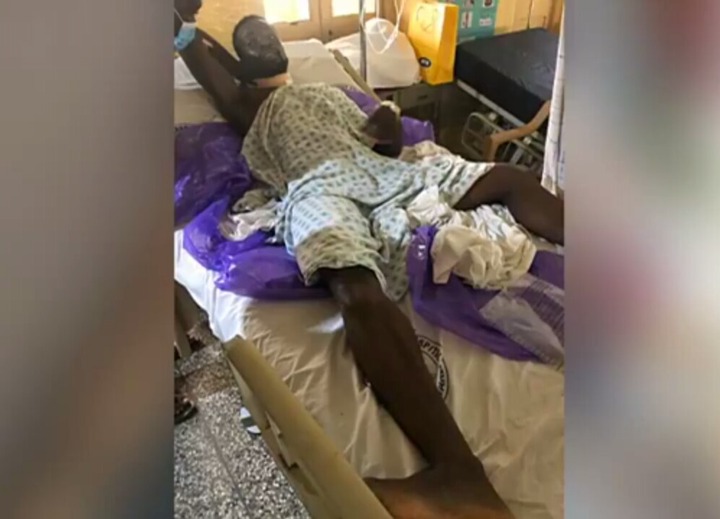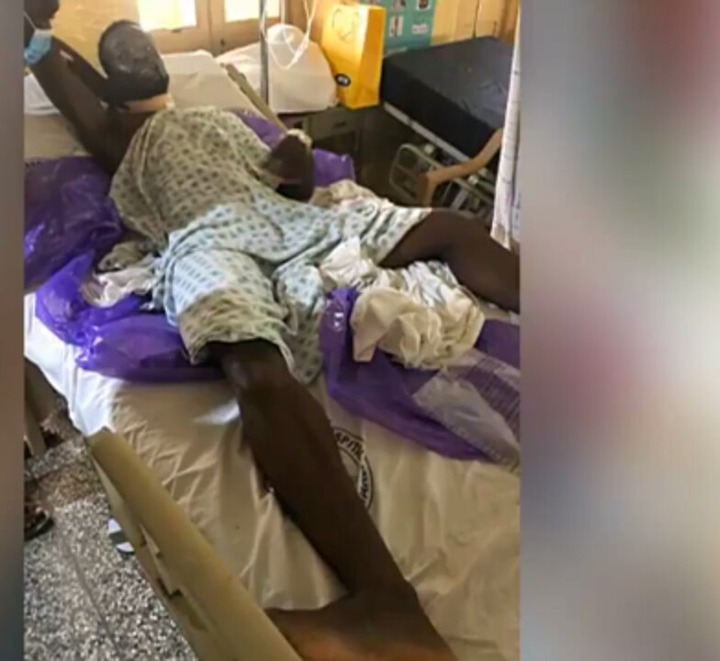 Content created and supplied by: RockyJDJones (via Opera News )