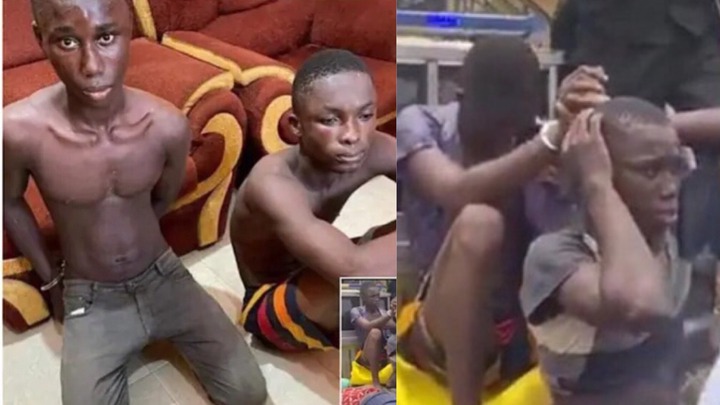 As we awaits the final judgment concerning the murder of one Ishmael Mensah, a class four pupil of the Maranatha School by two teenagers in Kasoa, at about 10am last Saturday, claims circulating has it that, one of the suspects is a minor hence can't be jailed regardless his crime.
Felix Nyarko, 15 is however minor and per the age of criminal responsibility, "Further protection is provided under section 314, Code of Criminal Procedure 1960, Act 30, which provides that the sentence of imprisonment shall not be imposed on a person under 15 years or, in the case of a district or local court, 17 years of age. The child can, however, be tried in a juvenile court (subsection 340-351) and sent to an industrial school or borstal institution".
This has caused a lot of confusion as reactions from both the family of the deceased and angry residents vow to take matters into their own hands if the two are not jailed for their crime.
The teenagers however appeared before court this morning for proceedings and after the hearing of the case and per report, the age of Felix can affect the ruling of the case according to the laws of the land.
But the case have been adjourned to April 20, 2021 for further investigation and clarification.
However speaking in a brief interview after the court hearings, Uncle of the deceased stated that, if the court should consider one of the suspects as minor per his age and not jailed for murder then they will not be happy at all.
According to him, if he's minor he wouldn't have taken a bold step to make money in just a wrinkle of an eye.
"The court have adjourned the case to 20th April, 2021 so we are waiting for the final judgment."
When asked about the claims of minor he stated that " if those teenagers are able to take the life of my nephew and the court is saying they should be sent to juvenile then out family won't be happy with that.
We don't want them to be sent to juvenile court because if indeed they are under age and can kill someone I don't see the need for them to be sent the juvenile court.
If that is what the law says then the law is however telling us that children can kill and go scot freely. He added
Content created and supplied by: Serwaa_Bernice (via Opera News )