Accident is bound to happen but we can control it, and if possible prevent it from happening if only we are careful on the road.
Another car accident occurred today, Friday 19th February, 2021 on the Tamale Yendi Road in between Sang and Salankpang.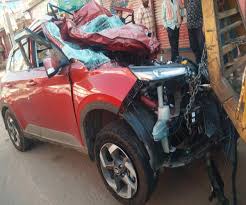 A car was coming from Tamale and locked on stir when it was taken a curve whiles another bus was coming from Yendi, going towards Tamale and they crashed at that point.
The only two passengers in the car that was leaving Tamale were staged in the car. They brought equipment from Yendi before they broke some parts of the car before they rescue them.
The other passengers in the bus were Fatally wounded though no one die on the spot. Some of them were later on reported dead after they were admitted in the Yendi municipal hospital for treatment.
According to the eyewitness, the accident has cut deeply into the body of most of the passengers but some have bruises but need to go for medical check-up.
Content created and supplied by: Zy0z (via Opera News )