29-year old man beaten to death at Sefwi Punikrom
Kwame Kalo known in private life as Kwame Kyei Lord, has been beaten to death over his actions shown to another man's wife. Kwame is a native of Punikrom and has been living in the town since his birth. He is a youth who is interested in most energetic woman, and doesn't even care if the woman is married or not. Kwame on yesterday, saw a clear chance to get back at one of his neighbours, and didn't hesitate to do so. Kwame when he saw the chance of his neighbour living town, saw a clear chance to make the wife his own. The wife of Yaw Ntaadua, is an alcoholic woman who took alcohol as a friend, when her eldest child died two years ago. 
Yaw through family members and herbs, has been going through a lot, in other to stop the wife from drinking. He has spent several thousands of cedis on herbs and fetish doctors, who have a track record of stopping alcoholic drinkers. Yaw because of the medication his wife is on, has since prevented her from going outside the house, so she can go through the treatment in peace. Yaw received a call of his mother's illness on Sunday morning, and planned to visit the mother at Kumasi yesterday. He arranged for one of his wife's sister, to come take care of the wife, so she can watch her end the medication in peace and abstain from drinks. 
The sister was keeping long in coming, and Yaw couldn't wait for her any longer, because the journey from Punikrom to Kumasi is a long one. He was at the station looking for a car, when the sister of his wife, called to let him know she has arrived at Punikrom. He stopped taking the car to Kumasi, in other to send the sister to his house, before embarking on his journey. On the way to the house with the wife's sister, was when he saw his two young children going out with bowls. He stopped them just to find out that, Kwame Kalo has instructed the children to go to Nyame Nye Chop Bar for food. 
Kwame after he saw his neighbour Yaw Ntaadua leaving the house, went with fruit juice to visit the wife of Yaw. Kwame had already added two glasses of local dry to the fruit juice, before handing it over to the Ataa, Yaw's wife. Kwame knowing well that, Ataa is an alcoholic whom the husband Yaw has been doing everything to stop, influenced the woman with the fruit juice mixed with local dry gin. Ataa didn't take the drunk until Kwame first took a zip, to prove no poisonous substitute was in it. 
Ataa became influenced by the alcohol in the drink, and became thirsty for alcohol. Kwame gave her more local gin in its raw state, without adding anything to it. Kwame after realizing Ataa was drunk, sent the children to Nyame Nye Chop Bar to buy food for their mother, and themselves. The children were stopped on their way, when Yaw was returning to the house with Ataa's sister. Yaw rushed to the house, and all the doors were locked. He heard his wife murmuring inside the locked room, whiles Kwame Kalo did his thing. Yaw violently pulled the locked doors and Kwame Kalo was on top of his wife Ataa, doing all kinds of sweet on her. 
Yaw in anger, took Kwame Kalo by the neck, threw him to the wall of the room, and didn't stop to teach him a lesson. He gave him numerous beatings with his hands and foot, whiles Kwame Kalo was on the ground. The sister of Ataa, stopped Kwame Kalo from been murdered by Yaw, and Kwame crawled out of the room when they were attending to the drunk wife. Kwame Kalo took to his heels, and Yaw kept following him with sticks. Kwame Kalo was rescued by community boys, when they heard him shouting for help. The boys ended up murdering him at the community park, when Yaw narrated what he has just witnessed. 
Kwame Kalo was not spared, as the youth beat him to death. That has been his attitude in the town, going from one woman to the other, even when they are married. Kwame Kalo never cared whether the woman is married, or not, and will use all kinds of tricks on her to get her. The youth could not take his madness again, when he did the same to Ataa, who was recovering from his alcoholism. Kwame's body has been taken to Sefwi Wiawso, whiles the police begins investigations into the case. All those who took part in the beatings, has denied taking part in it, and all of them, has witness backing them. The police has not been successful in arresting a single person, over lack of evidence.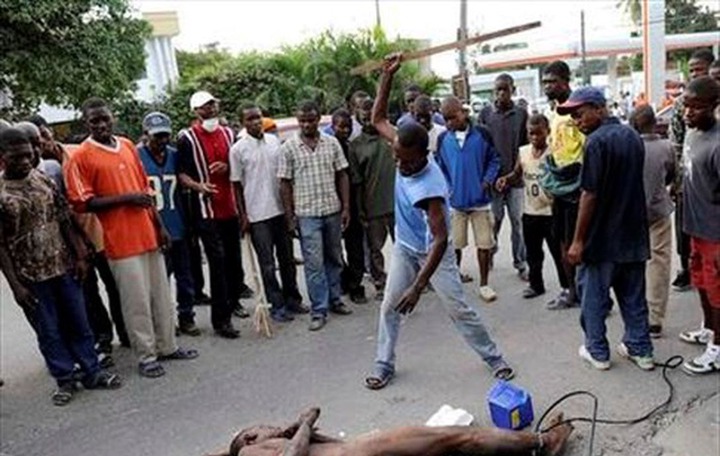 Content created and supplied by: RockyJDJones (via Opera News )