29-year old man to face heavy fines for smoking 'Weed' on Police truck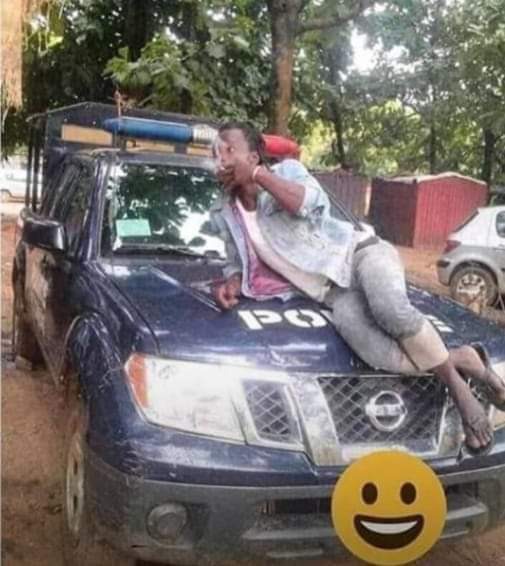 What many fears to do in the public, Stephen Marfo doesn't. The thing many cannot do it in the open except the bush or in their bedrooms, was what Stephen boldly did on a police truck parked at Manoh market square. Stephen who is known widely as Sticky Chocky, is a 29 year old man who took to illicit behaviours, after the completion of his senior high school. He was one of the academically brilliant and bright students in his class, with hopes of getting the highest grade in his class. Sticky was not a dull student, despite his academic prowess. He was a lovely student who kicked and mingled with everyone he came across, whether in the classroom or outside school premises. He lead his class on three times, in wining a school competition which was organized for all core science students. 
The student who many saw as a walking library, was hit with the greatest devastation, when their final results was released in 2015. Sticky Chocky was 24 when he graduated from senior high school, and was very positive of obtaining an A throughout. He ended up with four B's, Three C's and One C6, which nearly made him go mad. Sticky was obsolete, that wasn't his grading but there was nothing that could have been done to his results. He took to bad friends when he couldn't control himself again, and started taking bit by bit alcohol, until he graduated into a full time drinker and smoker. 
He has since 2015, been smoking and drinking excessively. Sticky on yesterday afternoon, took two glasses of dry gin from a local pub, and went straight home. His mother Ante Ama had already prepared banku and fish, so his lunch was rest assured. Sticky after taking his lunch, took back to the streets and never mind the mother, when he took his leave outside. Sticky took his leave to meet someone and got into trouble, rather than meeting the person. Three blocks away from their house, was where he saw a police truck parked under the Almond tree (Abrofo Nkatie), which leads to the market square. 
One Benewaa had experienced a robbery at her house, which was near the market square. Benewaa reported the robbery to the Manoh Police who escorted her to the house, to take account of the robbery, and they used their police truck. The truck which was parked under the Almond tree which was behind Benewaa's house, was what Sticky found joy in. He went on the hood of the truck, lighted his two rows of weed rapped in a piece of paper, and started smoking. 
The one thing which itself is illegal to do, was been done on the police vehicle, which angered the police. The officers Adamu and Emmanuel, got to the scene where their vehicle was parked, and right on top of it was Sticky, enjoying his rows of wee. Adamu pushed him away from the hood and Sticky, started insults on the officer, and even used his shortness against him. Adamu and Emmanuel arrested Sticky and sent him to the cells, for insulting the officer and smoking weed on their car. Sticky who has been in cells for over 10 hours, will either face court for his crimes or allowed to go. The family especially the mother Ante Ama, has been pleading with the officers to let go of Sticky because of the alcohol he is under. But Sticky, even in cells has insulted all the police officers at Manoh Police Station. His fate hasn't still been decided, but whatever the case, he will either pay for the hood damages done to the car for smoking on it, or face court for insulting the officers and smoking weed. The mother will also have to compensate the officers for the insults directed to them, if he is allowed to go.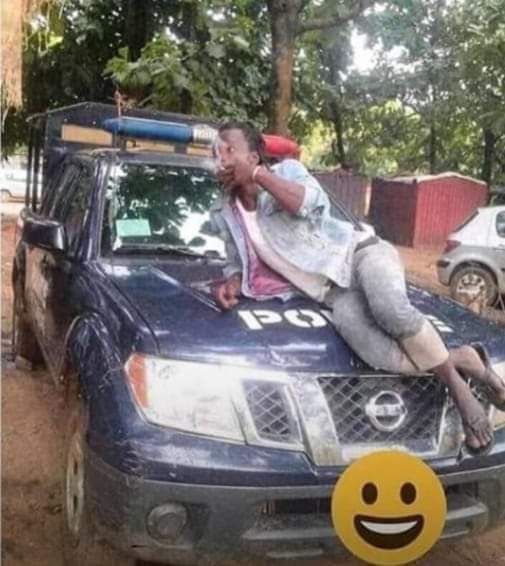 Content created and supplied by: RockyJDJones (via Opera News )