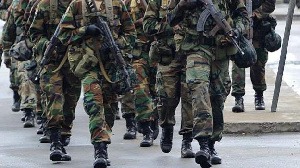 A report from Ghana news Agency indicated a confusing and struggle between some military from Michel camp and some police personnel over some unknown men who were allegedly apprehended at kakasunanka number one by the police during an errand to fish out individuals who are illegally involved in the use of narcotics.
According to a witness interviewed by Ghana News Agency, the military officers claims the men are innocent and was mistakely arrested by the police men and however the misunderstanding is believed to have emanated from the police officers.
The eyewitness also added that the military officers claims that the police officers invaded the apartment with the view of searching for people's invloved in the weed smoking in nearby ghettos in the area.
Ghana News Agency however noted that the police were in one way or the other maneuver their way out which was eventually given a serious chase by the military officers in order to prevent the police from taking their officer and other suspect away.
The situation as observed by Ghana News Agency causes an over crowd around the scenes with no way for even car to navigate through.
Thank you for reading, kindly like share and click on follow up for more trending news and updates.
Content created and supplied by: [email protected] (via Opera News )