The upcoming 2022 will be held next year in the month of January.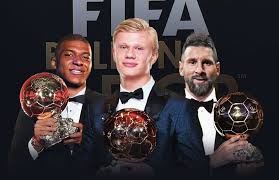 So far the 1st top 10 list of have pop up showing 10 players from different clubs.
The number one on the list is Robert Lewandoski who plays for Bayern Munich. Lewandoski got the chance to win the Ballond'or last year but due to the covid-19 the program wasn't held. But that didn't discourage him. This season, he has gotten much involved with 22 goals, 3 assist. He has also won the club world cup. Lewandoski may win the prize if he wins the leagues left. Which is the Bundesliga, Champions league and the Euros 2021. His performance is better than Messi and Ronaldo at the moment.
Lionel Messi is second on the list with 19 goals and 8 assist. He is left with Laliga, Copa del Rey and Copa American 202 to win.
Kylian Mbappe is the third on the list with 16 goals and 2 assist with four competitions left for him to win.
Erling Halaand us the fourth on the list with 16 goals and 5 assist with 3 leagues left for him to compete.
Ilkay Gudogan a player for Manchester City with 12 goals and 3 assist and 5 competitions to compete with.
Luka tops as the 5th player with 10 goals 5 assist followed by Cristiano Ronaldo with 14 14 goals and 3 assist.
Bruno with 9 goals and 5 assist followed by Suarez with 11 goals and an assist anr Benzema as the last player on the list with 11 goals and an assist
Content created and supplied by: [email protected] (via Opera News )