21 People Whose Genetics Made Them Unique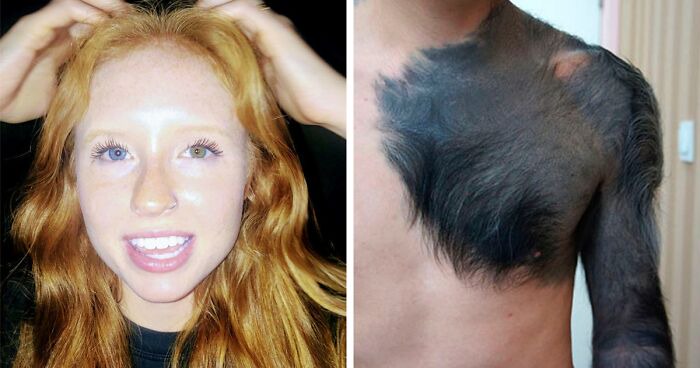 We often hear that some people are just born different. But Mother Nature has taken this idea to a whole new level.
The result is a very unlikely gene combination that results in the most unusual human body traits. Bored Panda has curated a list of the most unique cases that will make your eyes roll twice. From quirky birthmarks to one too many digits, these people know what it's like to stop the conversation. Who wouldn't like that superpower?
As you scroll down, don't forget to upvote your favorite genetic traits! Have one yourself? Tell us in the comments! And check out our previous list of people with unique genetics right here.
1. Little Girl Born With A White Patch Of Hair Which Is Exactly The Same As Her Mum's
The grey patch of hair famously sported by bad-boy Sweeney Todd is a condition known as poliosis. The mechanics of this genetic mutation are relatively simple—when the melanocytes stop producing melanin, the hair starts growing without the pigment. It can be either hereditary or occur with genetic disorder like "piebaldism." Poliosis comes from Greek word "pilios," which means grey.TSuch a lil cutie
2. Look At The Eyes Of This Kid. He Has A Condition Called Waardenburg Syndrome
Waardenburg syndrome is a very rare genetic disorder occurring in 1 in 40,000 people. It's named after a Dutch ophthalmologist, D. J. Waardenburg, who first identified the syndrome in 1951.
The different-colored irises are among the common signs of Waardenburg syndrome, since it affects the pigmentation of hair, skin, and eyes. Other common symptoms of this rare disorder are changes in vision and hearing loss.
3. An Amazing Birthmark on the forehead
Most of us carry one or two birthmarks. This human trait is so common that nobody really thinks twice about them. The first birthmarks appear shortly after we're born and they're caused by an overgrowth of blood vessels, melanocytes, and keratinocytes. Some of them fade with time, while others stay for the rest of our lives. One thing is clear—they're not caused by mothers doing something wrong during pregnancy. It's a thing of chance!
4. A Lady with a Ginger Heterochromia. A Genetic Masterpiece
In most cases, people born with heterochromia⁠—different-colored eyes⁠—experience no other symptoms. These days, multicolor eyes are viewed as a quirky beauty feature and many celebrities are wearing lenses to achieve the look. 
Meanwhile, it's said that there are about 70 to 140 million people around the world with red hair. But the odds of getting these two unusual features at once are really small!
5. I Think You'll Like This Eye
This young man has albinism—a congenital disorder that's characterized by the absence of pigment in the skin, hair, and eyes. One in 18,000 to 20,000 people has some type of albinism in the US. The blue, purple-like color of his eyes in the picture is due to the absence of melanin in the eyes. Sometimes the blood vessels show through the iris and eyes can even look red or pink.
6. The Iris has been Split In Half
The condition is known as sectoral heterochromia. It means that only a portion (or sector) of the iris of one eye has a different color than the rest of the iris of that eye. The condition is rare and typically doesn't have any other significant symptoms or problems. But how captivating it is to look at!
7. Vitiligo Affecting One Side Of A Man's Face
Vitiligo is a long-term condition caused by a lack of melanin, the pigment of skin. It creates patches on the skin and commonly happens on the face, hands, neck, and skin creases. These areas are more prone to sunburn, thus people are recommended to use sunscreen with a high SPF factor. Pop singer Michael Jackson and model Winnie Harlow are known to have the condition.
8. Zhang Hongming Suffers From Rare Congenital Giant Pigmented Nevus, Commonly Know As Giant Furred Moles
Giant furred moles are a congenital gene defect that result in hairy patches of darker skin. They usually appear at birth or start developing in the first year of a child's life.
These dark-colored patches are small in children, but most often they grow along with them. Scientists believe that problems with melanocytes (skin cells that produce melanin which gives skin its color) are to blame for pigmented nevi (plural of nevus). The hair that grows from these nevi can be brown or even a bluish-black color.
9. Uncombable Hair Syndrome Is Real: There Are Only About 100 People In The World Known To Have This Genetic Condition
Bored Panda contacted Celeste Calvert-Yin, the mom of Shilah Madison, the girl with uncombable hair syndrome pictured in the image above.
Celeste told us that the girl gets a lot of attention, both positive and negative, due to her condition. But Shiloh is a strong child and "she handles the bumps so courageously and has such an amazing outlook on everything."
Living with UHS means that Shilah's hair routine is very different from yours and mine. Her mom told us that "her daily routine of taking care of hair is a long and painful one. We minimize brushing unless it's really needed."
The girl's hair breaks from the roots, which means that lots of treatments should be applied daily. A washing schedule of once or twice a week only is something a person with UHS has to follow.
Shilah's condition is so rare, the family found it out by accident
Celeste explained that every day is a learning curve for the family and "with the help of her silk pillow case we are making progress and teaching her how to manage it herself."
The family found out about the syndrome by accident. "When Shilah was in hospital for a small operation, the doctor asked if we knew about her condition. We had no idea," but the doctor explained everything and "we finally had an answer."
Celeste doubts that before Shilah's Instagram account people knew UHS was even a thing. But the family had soon had around "100 people send us pics and ask questions about her hair." Celeste is convinced that there are more people like her daughter and "we hope that Shilah could know she isn't alone.
10.  Hands with 6 Fingers On Each
A recent article published by the Journal of the American Society of Plastic Surgeons stated that 1 in 700–1,000 people are born with polydactyly. This means that having extra fingers on hands, extra toes on feet, or both are very common limb malformations.
And while such appearance stands out, some believe it can bring individuals some practical benefits. A study run by the University of Freiburg concluded that people with polydactyly have more agile movement than individuals with fewer digits.
11.  A Condition of Distichiasis That Causes the Eyelashes To Grow In Multiple Rows
Distichiasis is a rare congenital condition where you have two rows of eyelashes. The second row of eyelashes can include anywhere from a single lash or a few hairs to a full, complete set. Usually, this second row has thinner, shorter, and lighter eyelashes.
Distichiasis most often affects all four eyelids. However, in some cases, people have eyelashes growing from just one lid or just the lower lids. People with a second row of eyelashes might not have any additional symptoms, but some are more sensitive to light, others have irritated corneas or might be prone to getting conjunctivitis.
12. An Amazing Eye
This can be one of two conditions. It might be coloboma, which is a hole in the structures of the eye and mostly affects just the iris. Coloboma is quite rare, affecting less than one child for every 10k that are born.
Or the condition might be corectopia where the pupil is displaced from its position in the center of the eye. Some people with corectopia may need surgery to correct the position of the pupil.
13. Born with 2 different colours of eye brows and eye lashes
There are two main types of vitiligo: unilateral (aka segmental) and bilateral (aka generalized) vitiligo. Bilateral vitiligo can start at any age and it produces depigmentation that is very symmetrical.
Meanwhile, unilateral vitiligo usually begins in children and young adults and affects only one side of the body. In other words, this type of vitiligo is asymmetrical. Usually, segmental vitiligo progresses for one to two years and then remains "frozen" for the rest of the person's life.
14.  Born With Blonde And Brown Hair
We all know that your hair color can change a lot during your lifetime. You can be born blond, have brown hair as you're growing up, and end up with dark, black hair when you're an adult. There are even people out there who are born with black hair and then turn blond later on! Hair genetics is weird!
While some people have lighter hair because they spend a lot of time outside in the sun, others naturally have streaks of different-colored hair. Fascinating, isn't it?
15.  Born with a Ring Of Brown In My Eyes
Hazel eyes have everything to do with the different distribution of melanin in the iris. Keep in mind that there's no such thing as blue, green, or hazel pigments in your eyes: they simply have different amounts of melanin which is a dark brown pigment.
Eyes that have high levels of melanin absorb more light and result in a brown color; while lower concentrations of melanin absorb less light which means more is scattered by the iris, resulting in blue and green colors. Melanin can be distributed unequally in different parts of the iris which means that your eyes can look like a fascinating mish-mash of different colors.
16.  Born With 12 Fingers And Toes. All Fully Functional.
This condition is known as polydactyly and refers to a person born with extra digits. The name comes from the Greek "poly," which means many, and "dactylos," which refers to fingers. There are three different types of the condition—ulnar, radial, and central. Polydactyly is passed down through one's family, or it can be a sign of a genetic condition.
17. His Jelly Button Attracts A Lot Of Comments
Your belly button is a scar that's left over from when a doctor or nurse cut your umbilical cord right after you were born. In other words, your belly button is the place where your umbilical cord was attached to you. A relic from the good old days when you didn't have to worry about pandemics and rent.
People can have different belly buttons, whether we're talking about their sizes, shapes, or even "patterns." However, most people have so-called "innies." The type of belly button that you have is linked to the way in which the scar tissue formed. So if you have an "outie," this scar tissue is simply poking out, instead of in.
18. He Was Born With Coloboma In Both Eyes
Coloboma is an eye abnormality that usually occurs before birth. It's characterized by missing tissue inside the structures of the eye. As a result, the eye might have a "key-hole" appearance of the pupil, but that doesn't mean it leads to vision loss. It can only occur if the retinal coloboma is so large that it affects the optical nerve. Such cases, unfortunately, cannot be helped with glasses or contact lenses.
19. Baby Born Polydactyl On One Hand With Two Thumbs. I Think It's Rad
Polydactyly is a condition that means that someone is born with one or more extra fingers or toes. That means that you can have extra digits either on one of your hands and feet or both. This condition is often genetic and is also known as someone having supernumerary (more than the normal amount of) digits.
However, polydactyly can vary from person to person. Some people have fully functioning extra fingers or toes. Others have partially formed digits that might contain some bones but no joints. While still others might have just a small lump of soft tissue, also known as a nubbin.
20. A Man Born with an Extra Hole in The Eye
Even if this particular condition is unknown, some people do, in fact, have small holes in their ears. They're called preauricular pits and are usually found in the front of the ear, towards the face. In fact, the hole is connected to an unusual sinus tract under the skin. While in most cases, it isn't harmful, it can get infected for some people.
21. A Lady Born with a Stripe on Her Left Iris
The condition is known as sectoral heterochromia. It means that only a portion of the iris of one eye has a different color than the rest of the iris of that eye. The condition typically doesn't have any other significant symptoms or problems. But how captivating it is to look at!
Content created and supplied by: BabyRooney (via Opera News )