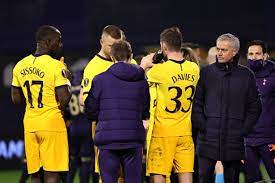 Tottenham have been knockout of the Europa league round of 16
After an intensive match between Tottenham hotspurs and Dinamo Zagreb, away team manage to score 3 goals.
Tottenham
Tottenham already had a 2 goals advantage during their home host. During their host match Tottenham had enough rest, so the players were well fit for the match. Dinamo Zagreb has a good form but they were unable to score a goals at Tottenham's home. Tottenham lose against Arsenal in the during their last match, looking at their style of play, they had a chances they could have score but wasted all. It because Arsenal had a great defending against them. What will happen with their next match with the Zagreb's.
Match
Zagreb, were well prepared for a qualification after being conceded a two goals by the spurs. During their home match the first half was goalless, so everybody had the mindset that Tottenham is going to win or draw the game. On the 62nd minute during the second half, Orsic managed to score a first goal, the goals got Tottenham on their feet, but spurs still were relaxed because even if they score them, they must draw the game. later on, Zagreb manged to score a second goal by same player Dinamo's Mislav Orsic on the 82nd minute to raw the game against the spurs..
Harry Kane had a good chance to score away goal in the first-half of extra-time, before Orsic scored on the 106th minute to claim a memorable victory to home team.
Tottenham just ended up losing, so they have a league cup to play against Manchester City.
Content created and supplied by: rexfthug20 (via Opera News )