Football they say is a 'god'. A lot of people all over the world and play football. In America, it's called Soccer. It is the most played sport in the world. It's played in homes, schools, communities, and stadia. A football match has eleven players competing for each team. Each team is made up of a goalkeeper, defenders, midfielders, forwards/attackers. Each player is responsible for different roles. While attackers are poised to score goals, defenders are poised to prevent shots from reaching their goal. Although this has been the case on paper, we find defenders and midfielders scoring for their respective teams. That's what football is about "team play". So far as one is on the field, everyone shares equal responsibilities. We have seen many great defenders play but how many have scored lot of goals for their teams. Let's check out the highest goal-scoring defenders of all time.
Ronald Koeman is the highest of them all. He scored 253 goals while playing. He played for Ajax, FC Barcelona and the Dutch national team.
Second is Daniel Passarella of Italy. He scored 175 goals while playing.
Third is Fernando Hierro of Spain. Hierro was once a captain of Real Madrid and he scored 163 goals while playing.
Fourth is the French, Laurent Blanc. The former Paris Saint Germain international scored 163 goals while playing.
Fifth is Graham Alexander. He scored 130 goals while playing active football.
Sergio Ramos is the sixth and the only one among the top 10 to be playing active football. The Real Madrid captain has scored 126 goals. He added to his tally after scoring against Atlanta on Tuesday night.
Steve Bruce, Paul Brietner, Roberto Carlos and Franz Beckenbauer follows in the descending order. They scored 113, 113, 113 and 109 goals respectively.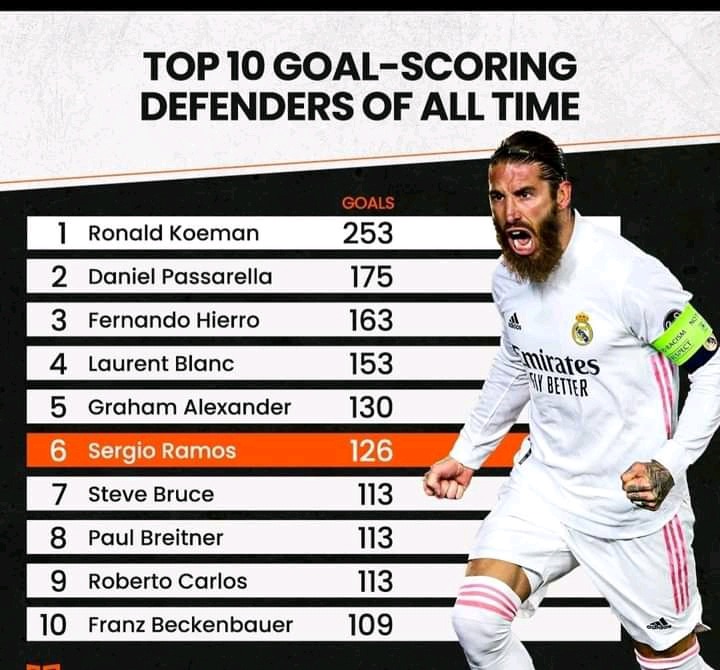 Content created and supplied by: Nab1 (via Opera News )