Leagues in Africa have been doing quiet great until the deadly Coronavirus took over the continent by surprise but even in the midst of the pandemic Confederation of Africa Football (CAF) have released list of countries which did better in term of their league of the year under review.
CAF Ranks the strongest Leagues in the continent using points. Another possible reason that the Confederation might use for this rankings will be fans or supporters participation in the league and how popular the Leagues are in the continent.
Some leagues have high supporters participation compare to others. They might also consider how often clubs in certain countries regularly participate in CAF Champions League finals and how often they win the Cup. Ghana over the last two decades have not been able to win the CAF Champions League. Club like Al Ahly of Egypt have won it 9 times more than any African country.
Asante Kotoko have won it twice, 1970 and 1983 and Accra Heart of Oak got their taste of the Cup in 2000. Since that time, Ghana have not been lucky again. According to CAF Rankings of Africa's strongest Leagues, this is the list in position arrangement:
1) Morocco - 190 points
2) Egypt -167 points
3) Tunisia - 140 points
4) Congo DR - 83 points
5) Algeria - 81 points
6) South Africa - 68 points
7) Zambia - 43 points
8) Nigeria - 39 points
9) Guinea - 38 points
10) Angola
11) Sudan
12) Libya
13) Tanzania
14) Ivory Coast
15) Kenya
16) Zimbabwe
17) Mozambique
18) Congo
19) Uganda - 8 points
20) Ghana - 6.5%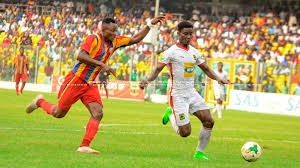 Content created and supplied by: Elohimnews24/7 (via Opera News )