Serena Williams is a renowned Tennis player and one of the greatest of all time in the female category. Winner of 32 grand slams titles, and also a role model to up coming youths who love the game of tennis. She is never the less without controversies.
Just recently, she revealed that she was nervous about her newly designed sports wear at the on going Australia open championship.
As she played in her first major grand-slam of the year, revealing the striking one-legged catsuit she said was inspired by former American Olympic Champion, Florence Joyner Griffith who also wore a one-legged figure kugging outfit at the 1988 Olympics.
The outfit (sports wear) attracted and drew a lot of comments from followers of the game, including some notable commentators. Though some saw it was attractive, while others think otherwise, and blasted her, saying , the game of Tennis is only a sport and not a fashion parade.
Now she has admitted that she had doubts about the ensemble as a result of some oversight in the plans to done the colourful outfit in Melbourne.
The 39 year old Champion, chuckled when she talked about the design. She was unable to test fit it prior to wearing it in the court on Monday.
Serena said in her post- match press conference on Wednesday after cruising through to the next round with a 6-3 6-0 victory over Nina Stojanovic that caused some stares about her outfit, because of the see-through elements.
She has always courted some controversies prior now, and with this one, she is still not deterred by some negative comments. Serena, did the same thing last year in the same Australia Open championship, where she stripped down before her first round of games to reveal a Jade green, figure-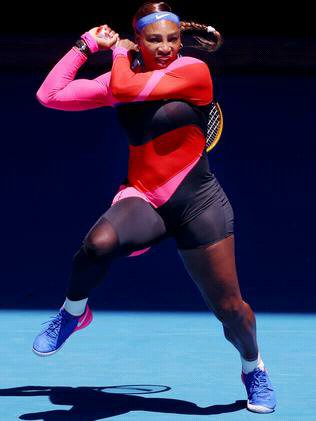 hugging jumpsuits, matched with fishnet stockings.
Now pundits say enough is enough and they asked her to play Tennis not to parade like in a Fashion exhibition.
Content created and supplied by: Kingkennedyjustice (via Opera News )