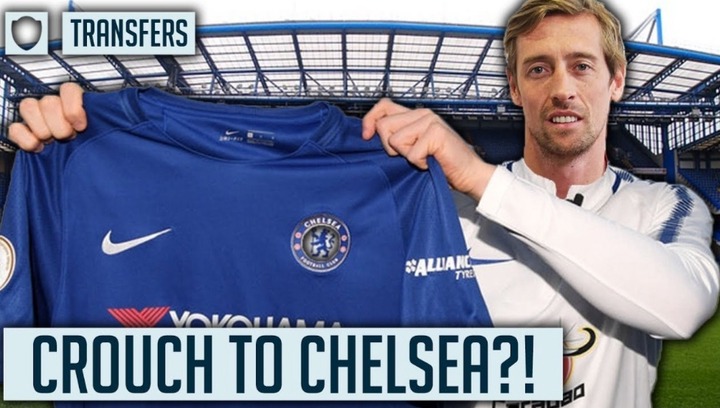 Monday saw another January transfer window, with Chelsea obviously being very quiet throughout the window.
Thomas Tuchel has arrived, and has seemingly asked to see every player in his squad for the rest of the season before making his decisions on who will stay and who will go.
But Chelsea have certainly been close to a few 'panic-buys' in January in 2018, if these reports are to be believed. Here we take a look at the window that could have been (I genuinely thought some of these publications had been hacked!)
17th January, 2018 - Chelsea open talks to sign Andy Carroll on a permanent deal, according to The Guardian.
Chelsea clearly wanted to bring Antonio Conte a big old-fashioned target man.
19th January, 2018 - Chelsea make contact with Stoke over Peter Crouch, according to The BBC.
Yep, they even went for Crouchy!
21st of January, 2018 - Chelsea interested in signing Burnley striker Ashley Barnes, according to Sky Sports (above).
Thankfully, interest was all we ever heard about!
With Chelsea's desperate hunt for a big striker so evident, even FIFA's strongest player Adebayo 'The Beast' Akinfenwa was involved!
The Wycombe Wanderers striker responded on his Twitter after the joke rumours came up…
"Woke up hearing the Chelsea rumours, I'm flattered but I've heard Conte don't allow chicken at the training ground sorry can't do it!."
But things were only just getting started, and Chelsea were close to signing Edin Dzeko, with advanced reports of a £44 million double deal being agreed with Roma which would see Dzeko and Emerson Palmieri arrive at Stamford Bridge.
Of course, it ended up just being Emerson, and Chelsea made one of their better signings in their history instead - Olivier Giroud from Arsenal.
Chelsea got the deal over the line on January the 31st 2018, paying around £18 million for the French star.
Since then, Giroud has played his part in winning the FA Cup and the Europa League for Chelsea and has been a pinnacle part of the squad.
However, Fernando Llorente was also on the radar if Chelsea could not get Giroud done…
On Llorente I'm told Tottenham will only consider selling him for around £25m in this window. He could still become Chelsea's fall-back plan if they can't get an agreement for Giroud.
There was also strong links of Leicester City striker Islam Slimani being another backup option to Giroud.
Richmond Boakye and Marko Arnautovic's names were also thrown in the hat.
Thank god we got Oli, right!? This was a mad one!
But it really makes you wonder right? What could have been for Chelsea and the legend that is Peter Crouch?!
Content created and supplied by: Teepee1 (via Opera News )