The world has produced a lot of great people from every corner especially athletes. And most people love these athletes so much that some people extend their admiration from the field of what they're good at to the extent that they follow them on their social media pages. These followers have even moved from just fans showing love to their athletes to a business platform to some of them.
The following are the most followed athletes on instagram.
10.) James Rodriguez.
James is a footballer with 46.5M followers
9.) Zlatan Ibrahimovic.
A footballer with 46.6M followers.
8.) Kylian Mbappe.
A footballer with 47.3M followers.
7.) Ronaldinho.
A footballer with 53.7M followers.
6.) David Beckham.
A footballer with 65.4M followers.
5.) Lebron James.
A basketball player with 79.6M followers.
4.) Virat Kohli.
A cricket player with 97.8M followers.
3.) Neymar.
A footballer with 146M followers.
2.) Lionel Messi.
A footballer with 185M followers.
1.) Christiano Ronaldo.
A footballer with 263M followers.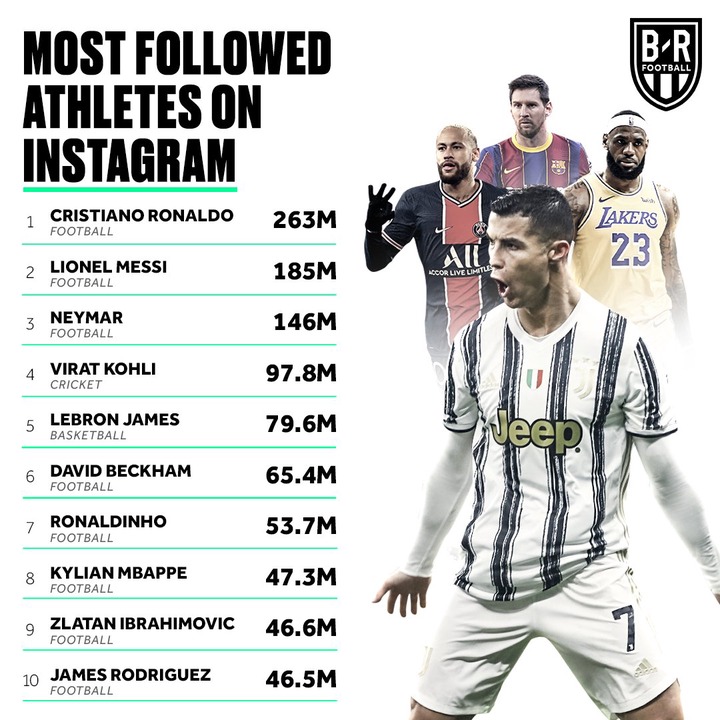 Thanks for reading and Don't forgot to follow.
Content created and supplied by: Know_Your_World (via Opera News )