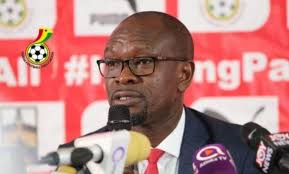 The Ghanaian national team has performed below par for the past few years after making a massive advances in the 2010 world cup competition held in South Africa.
The black stars who were once feared in the whole of Africa has deteriorated to the extent where they are no longer competitive.
Could the couch be blamed and the GFA be blamed for their style and type of call ups?
Putting blame on the GFA and the couch won't be a very wrong as their methods of call ups has always been questionable since the time of Nyantachi.
The Ghanaian national football team could have been more attractive that players will value call ups more than they do now and be eager to represent the country when given the call, but our treatment of our players starting from the 2010 Asamoah Gyan incidence ,followed by the Sule Muntari and Kelvin Prince Boateng has made the senior national team to lose it's attractive effect.
The likes of Callum Hudson Odoi and the others would have made Ghana a football power House.
The foreign born Ghanaian footballers who opt to represent their country of birth instead of their country of origin has been on a rise and now at it's peak.
The authorities are not the only culprits as the fans play Major roles in warding away players.
Imagine how the Ghanaian national team would've been should most of our foreign born players have represented Ghana.
The love for money has changed the desire to make history with your team to the desire to get rich regardless of the progress of your team.
Our foreign players lack the love for the country,they desire to make money from the foreign countries rather than making history with their native countries.
The very few players that make sacrifices and pledge loyalty to the country always end up regretting their decisions as they could and would've represented other countries if they knew how it was going to be playing for their country of origin.
Until some of these issues are rectified and the love to do more for the country magnified,on the international stage African countries will only go there to help the European countries get more goals and points to their name.
What do you think could help change this mentality?
How can Africa attract it's foreign based players to represent it ?
Leave your comments on the comment section.
Content created and supplied by: smssport (via Opera News )