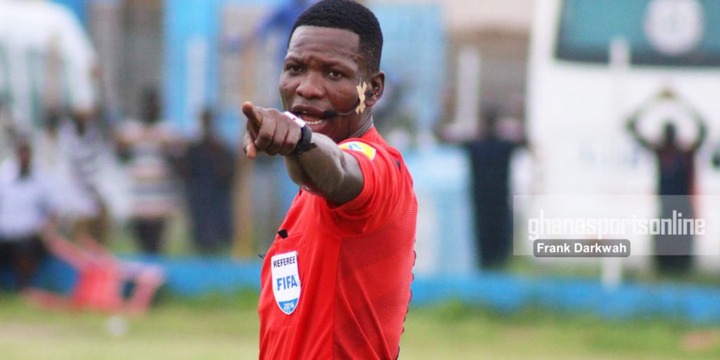 Check out the popular Ga( Ghanaian language phras) synonymous with Ghana's best and one of the best referees in Africa, Daniel Laryea.
Kaa ha l3 gb3 is a Ga(Ghanaian language) phrase which literally means, "Don't give him way", "Don't allow him" or "Don't give him space".
A phrase like this is normally used by coaches, goalkeepers, players and even fans to encourage or energize team mates to help them stop or halt opponents' incursion during training or football matches.
The above line is synonymous with the best referee in Ghana and one of the best Africa currently, Daniel Laryea.
The Accra Academy graduate will hardly utter more than ten words in a chat with team mates when we were in school.
He is a gentle soul off the field of play, yet a tough customer and personality when it came to football business on the field.
A goalkeeper who will not take mediocrity, laxity and laziness at training ground let alone important matches under equally a disciplined coach, J.E Sarpong in our secondary school days.
He hated to see the ball behind his goal line when he was in post for Accra Academy at Inter Schools Games.
He would shout this phrase at his back four defenders any time the opponent made an incursion into his third half, goal or penalty area.
His reactions when the opponent beats any of his back four to a ball can be equated to a lion after its prey.
Those are the moments that elicit more phrases from the Ga language.
"Ni nk33 kaa ha l3 gb33, onuu?(When I told you not to give space didn't you hear me?)
"M3ni ofioor?"(What are you doing?)
I remember when Accra Academy played Odorgonor Senior High in the finals of the Inter Schools Zonal finals El-Wak in 2005.
The Odorgorno striker swiveled just in front of me and struck the ball about 20 yards into Daniel Laryea's goal.
All he shouted was "kw33 Muftawu, meni ofee w) n33?( Heii Muftawu, what have you done to us?).
I can't forget that phrase Danni.
Indeed "oha ko anihaw gb3"( you did not give laziness the chance)
It is not surprising that he has become the best if not one of the best referees in Ghana and Africa.
Daniel Laryea prepares to officiate in the 2021 AFCON qualifier between Côte D'Ivoire and Ethiopia on March 30.
Go higher Danni.
Content created and supplied by: AdamuMuftawu (via Opera News )